Except for the keyboard, virtually every feature of personal computers has evolved dramatically over time.
It's worth noting that the typical QWERTY keyboard still has a few dated design characteristics from the early days of typewriters. Today, the classic layout can be found in a wide variety of shapes, colors, and key kinds.
The finest gaming keyboards of 2022 will be featured in this buying guide and a short buying guide at the conclusion will help you choose the best one for your needs and budget.
Check out our comprehensive guide to the finest mechanical keyboards for more information.
Membrane Keyboards
Some gamers prefer mechanical keyboards, but there are still many who like the old-fashioned rubber domes that have been around for decades. In spite of their membrane-based construction, the following gaming keyboards have excellent build quality and can be mistaken for mechanical counterparts.
Corsair K55
Membrane switch
The Pros:
Backlighting with RGB three-zones
In total, there are six macro keys
A removable wrist rest
The Cons:
The shiny band on top is a magnet for smudges and fingerprints. '
Quite expensive for a membrane keyboard.
About The Keyboard
We'll start with a well-known brand, Corsair, which makes RAM memory and a variety of gaming peripherals. We'll be focusing on the Corsair K55, which is one of several models in the company's product line.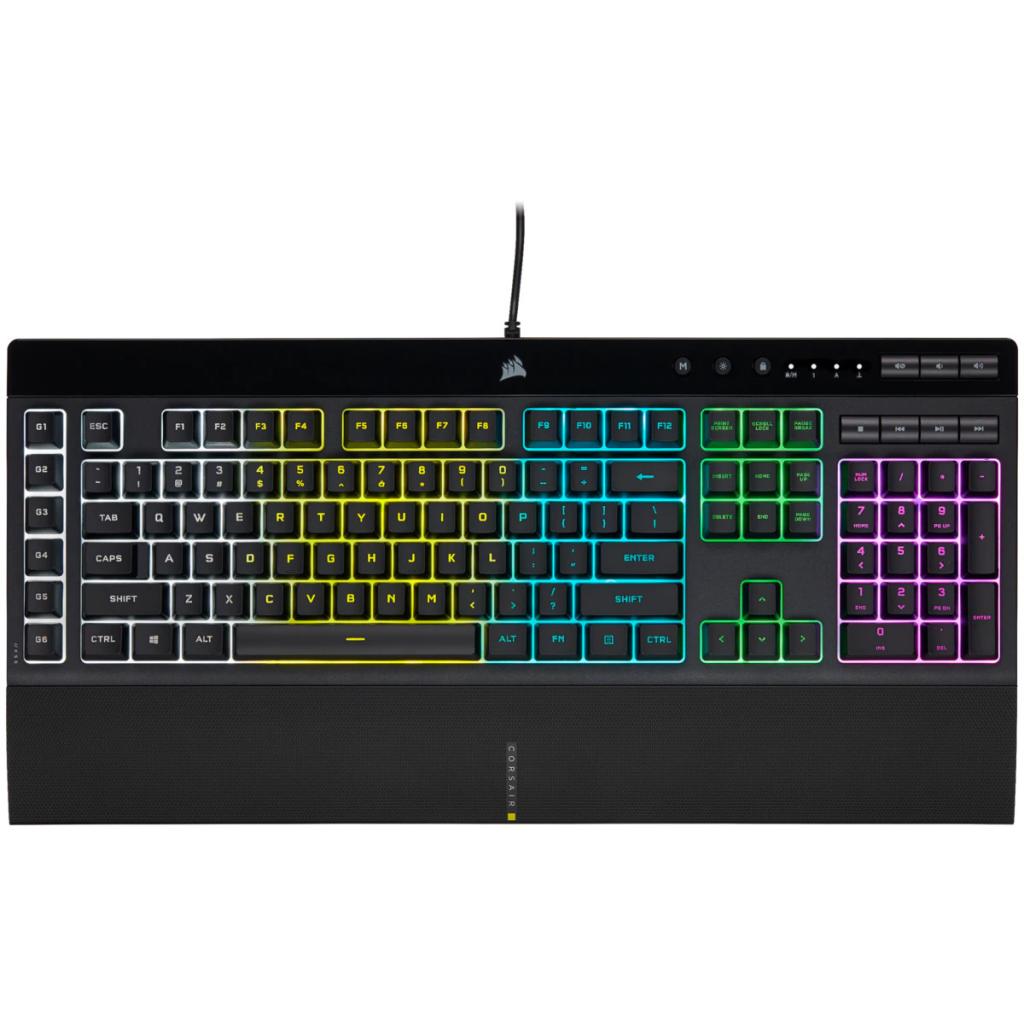 The K55 is a high-quality gaming keyboard, despite its resemblance to a mechanical keyboard, thanks to its use of rubber domes. In addition to the design, RGB lights, and additional macro keys, this keyboard also has a retractable wrist rest, making it a highly desirable gaming peripheral.
Key Features:
Three-zone RGB backlight — The K55 has an RGB backlight. This helps keep the price down, but unfortunately, it doesn't look as beautiful as per-key illumination. However, it is practical, looks excellent, and is clearly superior to the single-color LEDs that are currently on the market.
The keyboard comes with a detachable wrist rest that can be easily attached or detachable. Despite the fact that it is merely a rubber wrist rest, it is a welcome addition, especially given the low cost of the laptop.
Using the six macro keys on the left side of the keyboard, you may quickly perform several actions with just a single keystroke. For non-gaming purposes, macros can be recorded using the "MR" (macro record) button placed next to the media keys.
Our Thoughts
However, even though the K55 is a membrane keyboard, it doesn't rely only on RGB to sell. With a set of macro keys and a retractable wrist rest, it's well-designed, ergonomic, and a pleasure to use.
Some people may find it too expensive for a conventional membrane keyboard when more affordable mechanical keyboards are readily available. But other than that, there aren't any serious drawbacks.
Razer Cynosa Chroma
Membrane switch
The Pros:
Construction of high-quality plastic
Membrane keys that react quickly
Lighting with RGB chroma.
The Cons:
There aren't any noteworthy characteristics.
Doubtful utility.
About The Keyboard
"Since when did Razer make anything affordable?!" you ask. We hear you. Even though their name has become linked with "gaming" and "expensive", it is easy to overlook the fact that they produce a wide range of items.
When it comes to inexpensive Razer products, the Razer Cynosa Chroma is one of the best options for individuals who want a high-quality RGB keyboard at a reasonable price.
Key Features:
Outside, the Cynosa Chroma borrows heavily from Razer's iconic high-end BlackWidow keyboard. Indeed, they are nearly indistinguishable from one another. The Cynosa, on the other hand, has a simple plastic frame because it is a more affordable device.
Backlighting with a chroma RGB color system Incorporating Razer's patented RGB lights into the Cynosa gives it a unique look. Although this keyboard does not have RGB, it is unusual to find RGB as good and as customized as Chroma on budget-friendly membrane-based keyboards.
Our Thoughts
A sturdy gaming keyboard built to Razer standards is what you get with the Cynosa. The keys are not as firm as you might anticipate, yet they are responsive and comfortable to use.
As far as notable features go, it doesn't have special macro keys or a wrist rest, for example In terms of total value, though, the Chroma RGB LED lighting is its main selling point, so if that's what you're looking for, the Cynoso Chroma would be a good pick.
Razer Ornata Chroma
Mechanical Membrane Switch
The Pros:
Mecha-membrane keys that are responsive and tactile.
Backlighting in the form of Chroma RGB
A removable wrist rest
The Cons:
Some mechanical keyboards cost as much as this one.
About The Keyboard
The Razer Ornata Chroma is a mechanical-membrane hybrid gaming keyboard, although it's not quite a membrane keyboard.
Designed by Razer itself, this style of switch combines the responsiveness and tactile feedback of a mechanical switch with the reduced price tag of a membrane keyboard.
The design of the Ornata Chroma is what most people imagine when they hear the name Razer. Razer Chroma backlighting is included, as can be seen from the name, and it shares a similar design with both its cheaper and more expensive brothers.
Key Features:
Razer's patented Mecha-Membrane technology allows the keyboard to have both the feel of a membrane and the feel of a mechanical keyboard. Only those who are already familiar with mechanical keyboards will detect any difference in the feel and responsiveness of these keyboards.
Razer's trademark Chroma RGB backlight is, of course, present. Because of its unmatched customizability and dynamic effects and presets, it is currently among the finest in its class.
Wrist rest detachable – The Ornata comes with a large cushioned wrist rest that will make gaming and typing much more comfortable for you both. However, it adds a significant amount of weight to the keyboard. Because the magnetized front of the keyboard allows it to be removed at any time, this is not a problem.
Our Thoughts
For those who want a full Razer keyboard at a more reasonable price, the Ornate Chroma is the best option available. The RGB lighting is totally adjustable, and the hybrid switches are a tremendous improvement over the usual rubber domes.
Even still, the Razer Ornata Chroma is a pricey purchase. There are, in fact, a number of high-quality mechanical keyboards available at this price point, as well as others that are less expensive.
Mechanical Keyboards
Mechanical gaming keyboards are the major guns currently. Since the early 1970s, mechanical switches have become a popular choice for gamers because of their responsiveness and comfort.
We'll take a look at some of the best mechanical keyboards in this category, including some more budget-friendly options as well as some more high-end options. All of them, on the other hand, meet the highest possible levels of quality.
Redragon K552-R
A Custom Switch Type
The Pros:
A tenkeyless design that is small and portable.
Custom blue switches made to last.
a decent RGB lighting
Cheaper than most mechanical keyboards.
The Cons:
Switch dependability is under doubt.
Heavy and cumbersome
About The Keyboard
The mechanical keyboard from Redragon, known for its low-cost peripherals, is our first entry in the second category. The Redragon K552-R is the model in dispute.
Redragon's own mechanical switches replace Cherry MX's in this small tenkeyless keyboard, which also features RGB illumination.
Key Features:
The K552-R has custom mechanical switches that were built to resemble Cherry MX Blue switches, which means they are clicky and tactile, as described above. They're so close to the actual thing that it's a nice surprise to find them in such a low-cost keyboard.
When it comes to affordable mechanical keyboards, we are not used to seeing RGB backlights, let alone ones that are mechanical. As expected, the keyboard backlight is neither the greatest nor the brightest and only a few preset effects can be cycled through.
The K552-R is a tenkeyless keyboard, which means it is smaller than a typical keyboard, but it still has all the features you'd expect. As a result, it's smaller, lighter, and takes up less desk space, all while lowering the keyboard's price.
Our Thoughts
The Redragon K552-R mechanical gaming keyboard is an excellent choice for a budget mechanical gaming keyboard in light of the above. Despite the fact that it's more affordable than many non-mechanical keyboards, it still has superb switches, RGB lights, and a strong design.
To sum it up, the only problems we have with this keyboard are its hefty frame and the questionable endurance of the special blue switches. Besides, it's obvious why this low-cost keyboard is so popular among gamers on a tight budget.
Kingston HyperX Alloy FPS
Cherry MX Switch
The Pros:
Conveniently sized
Restricted area
The switches come in three varieties and two sizes.
The Cons:
There isn't any RGB here.
About The Keyboard
However, Kingston, like many other hardware companies, has also gone out into the gaming market, where their HyperX brand has become extremely famous.
The HyperX Alloy FPS keyboard, available in full-size and tenkeyless versions, is a popular HyperX peripheral. It features Cherry MX Blue, Brown, and Red switches.
Key Features:
The keyboard has a red LED illumination that is basic but effective. Despite the fact that RGB enthusiasts may be disappointed, red works quite nicely in this situation for two reasons. A gaming keyboard should have a red backlight since red light has a low enough wavelength to not be obtrusive in low light while still effectively illuminating the keys.
The primary body of the Alloy FPS appears nearly nonexistent, in contrast to the thick plastic exteriors often seen in gaming keyboards. Backside manufactured from high-quality plastic with a steel front panel.
Two other elements contribute to the keyboard's portability, in addition to its overall compact design. For starters, the keyboard's power line can be removed, and secondly, it comes with a protective carry bag that makes transporting the device a breeze.
Alloy FPS Pro — As previously indicated, the Alloy FPS is available in two flavors: base and pro. The Alloy FPS Pro, which eliminates the number pad for even greater mobility, is an alternative to the standard FPS model shown above. There are fewer switches, thus it is less expensive, but there are no new features.
Our Thoughts
The Alloy FPS is a gaming keyboard that most people would be happy with. It can be used on any desk, it's easy to move, and it's constructed to last. Each of the three Cherry MX switch types is available in two different versions, so there is something for everyone.
There is only one drawback: the red backlight isn't as visually appealing as it is functional. Despite its popularity among gaming peripherals, it may interfere with the lighting on others. The RGB keyboard is also available, but it is somewhat more expensive.
Kingston HyperX Alloy Elite
Cherry MX Switch
The Pros:
Quality construction.
Different switch kinds are available for selection.
The RGB lighting is stunning.
A removable wrist rest
The Cons:
About The Keyboard
The HyperX Alloy Elite is the ultimate RGB keyboard from HyperX! The Alloy FPS has many similarities to this model, including its shape and the fact that it comes with Blue, Red, or Brown Cherry MX switches. That's not to say that it doesn't have a few extra features to deserve the "Elite" label.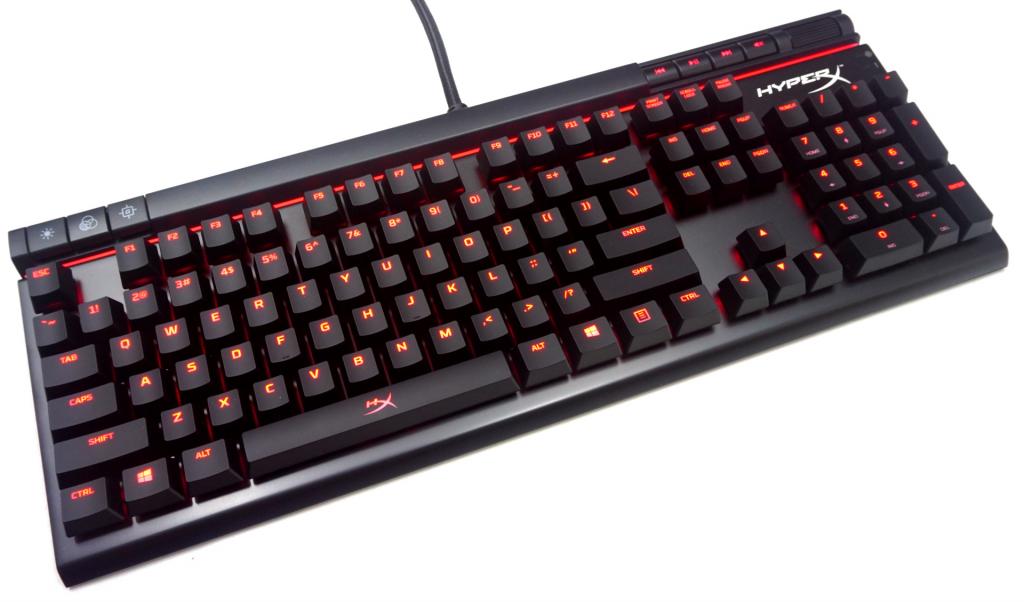 Key Features:
Unlike the Alloy FPS, the Alloy Elite has fully configurable RGB illumination, which includes a variety of attractive effects. There is also a good-looking RGB strip at the top of the keyboard in addition to the backlighting for individual keys.
To make lengthy gaming sessions more comfortable, the Alloy Elite has a retractable wrist rest
If you don't want to use the Fn key or function keys to operate multimedia, the Alloy Elite has a set of specialized multimedia keys that are useful.
Our Thoughts
Most of what needs to be stated has already been mentioned in our earlier piece on the Alloy Elite. There are various switch kinds to pick from and the keyboard is really comfortable, whether or not you utilize the built-in wrist rest.
Aside from the wrist rest and RGB lighting, the Alloy FPS has all of the major features for a fraction of the price save for those three things. The Alloy FPS is the superior option if you're on a budget or simply prefer function over form.
CORSAIR K70 RGB MK.2
Cherry MX Switch
The Pros:
Switches are available in five varieties.
Variant with a low profile
Backlight in rgb
Metal structure of the highest caliber
A removable wrist rest
The Cons:
On the pricey side of things.
The wrist rest isn't the best.
About The Keyboard
Corsair's K70 RGB MK.2 gaming keyboard is the next item on our list. Unlike the Alloy Elite, the K70 MK.2 has an option for a low-profile variant in addition to its regular model. This feature sets it apart from other mechanical keyboards.
Key Features:
It's no surprise that the K70 MK.2 mechanical gaming keyboard has a configurable RGB backlight that can be controlled via Corsair's software, iCUE.
A low-profile version of the K70 MK.2 is also available, as was indicated in the introduction. Because the keycaps are shorter than those seen on mechanical keyboards, the main difference is obvious.
Cherry MX switches in red, blue, and brown are all included, as is the customary case with this keyboard. In addition, Cherry MX Speed and Cherry MX Silent switches, which are less prevalent, are also available for use.
Dedicated media keys and a volume wheel are included, much like on the Alloy Elite.
Again, the K70 MK.2 comes with a detachable wrist rest, but it's not quite up to the standard of a wrist rest you'd receive with a keyboard in this price range.
Our Thoughts
With a programmable RGB illumination, the Corsair K70 RGB MK.2 is similar to other keyboards in this price range, with five different types of Cherry MX switches to choose from. It's a well-built device, but the low-profile keys that some users may love make it stick out the most.
Logitech G Pro
The Romer G switch type.
The Pros:
Romer-G switches that respond quickly
The design is small and light enough to be carried in a purse or
Lights in the red, green, and blue spectrum
The Cons:
About The Keyboard
Moving on, the Logitech G Pro is a well-known brand that makes high-quality peripherals, including a tenkeyless keyboard. With only nine keys, it's easy to see why this model stands out among tenkeyless keyboards in terms of portability. However, there are a number of noteworthy features included in this keyboard that make it stand out even more.
Key Features:
The G Pro's RGB backlight is exactly what you'd expect in this price range: vivid and easily configurable using Logitech's proprietary software.
Romer G switches — The G Pro employs unique Romer G Tactile switches like other Logitech mechanical keyboards. Tactile, resilient, and responsive, these controllers are ideal for competitive gaming.
This keyboard was created with portability and compactness in mind, so not only is it small and lightweight, but the cord is also detachable, making transportation much easier..
Our Thoughts
Accordingly, it is clear who the G Pro is most suited for. Even though it's a tiny advantage, the sensitive switches and the tenkeyless design make it ideal for portable keyboards. In comparison to other full-sized keyboards in the same price range, it is a bit on the high side when it comes to features and pricing.
Razer BlackWidow Elite
It is a mechanical switch, made by Razer.
The Pros:
responsive and long-lasting Razer buttons
Quality construction.
High-quality RGB chroma lighting
Ingeniously designed wrist rests.
The Cons:
About The Keyboard
Moving on to Razer, we'll have a look at the BlackWidow Elite, one of the company's best keyboards ever. Razer's proprietary switches, top-notch RGB, and a few nice extras round out this high-end keyboard's impressive list of features.
Key Features:
Beautiful Chroma RGB lighting — Razer has had some of the greatest RGB lighting in the business for a time now, and this premium keyboard is no exception. Using Razer's Synapse 3 software, you may adjust the backlight's brightness, hue, and intensity.
Razer has updated its switches for the BlackWidow Elite, which includes new proprietary switches. Due to the new design, the keys now have two side walls that help keep them sturdy and robust. Green, orange, and yellow, which roughly equate to Cherry MX Blue, Brown, and Red switches, are only a few of the many hues available.
The BlackWidow Elite contains numerous extra multimedia keys and a volume wheel, which is always a plus.
Again, a feature only found on high-end keyboards like this one, a detachable wrist rest is expected. The padding on this wrist rest makes it a little more comfortable to use than the competition's offerings.
Razer's Hypershift software allows you to give a secondary purpose to any of the keyboard's programmable keys, making the BlackWidow Elite a very adaptable keyboard.
Our Thoughts
Ultimately, you know what to expect from Razer's keyboards: high quality and durability, but at a high price. It's worth noting that the BlackWidow Elite, with its advanced features, will not disappoint if you're looking for the best.
Razer Huntsman Elite
Optical-Mechanical Razer Switches
The Pros:
Switches that are the fastest ever made
Quality construction.
Excellent RGB lighting from Chroma.
Wrist rest with removable ergonomic design
The Cons:
About The Keyboard
Finally, we have the Razer Huntsman Elite, another Razer keyboard. While it may seem similar to the BlackWidow Elite, there is one major difference: the Huntsman Elite has Razer's optomechanical switches, which are the fastest mechanical switches ever created!
Key Features:
Why is the Razer Opto-Mechanical Switch so special? Since it's called an optical sensor switch, it's more responsive than any mechanical switch can be. The keyboard is also extremely long-lasting, able to withstand up to 100 million keystrokes.
Razer's unparalleled Chroma RGB illumination is included in the Huntsman Elite, like the BlackWidow Elite and all other Razer peripherals
Like the BlackWidow, the Huntsman Elite comes equipped with an extra set of media keys and a volume wheel for your convenience.
As with the wrist rest described above, the one that comes with this keyboard is also detachable and has padding that makes it more pleasant to use for extended periods of time than most other keyboard wrist rests.
Huntsman Elite also supports Razer Hypershift, letting the user to assign a secondary purpose to any key, making it a very versatile piece of hardware. Fully programmable
Our Thoughts
There are a few differences between the BlackWidow Elite and Huntsman Elite, although they are minor. The most notable difference is the inclusion of optomechanical switches. If you're into competitive multiplayer, these could be worth the extra money because of how responsive they are.
However, the same problem persists – the cost. The Huntsman Elite is, naturally, more expensive than the already expensive BlackWidow Elite because of the more complex switches it employs.
Choosing The Best Gaming Keyboard
If you're new to all of this, you might find this a bit overwhelming. When it comes to picking the finest gaming keyboard for your needs, there are a few things to keep in mind.
Types Of Keys – Membrane VS Mechanical
In terms of the keys, there are two main kinds of keyboards. Although there are a few "hybrid" keyboards on the market, mechanical and membrane keyboards are far more widespread.
Membrane keyboards have a very straightforward operation. When enough pressure is applied to the key, the rubber dome behind it collapses, allowing the key to make contact with the board below.
There is a lot more to the story when it comes to mechanical keyboards. Here, a keycap is what we call a key on a membrane keyboard. On top of an even more complex mechanical switch, the board comes into contact with it when enough pressure is exerted (actuation force).
What are the advantages and disadvantages of each?
Membrane keyboards, for starters, are less expensive to produce because of their simple design. While they may be quieter in most circumstances and how loud they can be depends only on how quickly you type or violently hit the keys.
Mechanical keys, on the other hand, are far more convenient to operate because you don't have to push a key all the way down for it to make contact, which also makes them faster and more responsive.
Constructing these structures is more expensive. If you prefer your keyboard to be noisy or quiet, you'll have to decide for yourself whether you prefer a clicky or quiet keyboard.
While membrane keyboards are less expensive and quieter than mechanical keyboards, our guide to the best wireless keyboard and mouse combos can help you save a lot of money if you're on a tight budget. However, it's understandable that the keyboards and mouse included in these packages aren't up to snuff when compared to dedicated gaming models.
Types Of Mechanical Switches
There are a plethora of switch options available if you're considering a mechanical keyboard. After the Cherry MX switches, Logitech's and Razer's custom switches take the second and third spots.
Kaihua Electronics also makes the Kailh switches. These Cherry MX-style switches are a more cheap alternative to the more expensive Cherry MX switches.
Switches can be described in a variety of ways.
Loud or quiet — This is a simple distinction to make. A click can be heard once the actuation point is achieved with louder switches, whereas quieter ones make less noise when activated.
Linear or Tactile — Some switches provide tactile feedback in addition to aural feedback. To put it another way, you'll feel a bump when a tactile switch hits its actuation point. Linear switches, on the other hand, do not provide this type of feedback.
The force required to register a keystroke, the distance a key travels, and the switch's own longevity can all vary widely among switches. Listed below is a breakdown of the different switch types found in the mechanical keyboards we looked at.
Corsair K100 RGB Optical
SPECIFICATIONS
Change: OPX by Corsair
a full-sized bed
Backlight: RGB
Passthrough: USB
A Dedicated Set of Controls:
Wristrest: Detachable
The Corsair K100 RGB is the greatest option for those who want to go all out and upgrade to the absolute finest of the best. This is a huge keyboard, so be prepared to clear some space on your desk before you try to nest it. The K100 RGB, on the other hand, has all the bells and whistles. Controls for media playback, including a USB port, a metal volume wheel, and RGB lighting. This keyboard has a lot of RGB lighting, to say the least.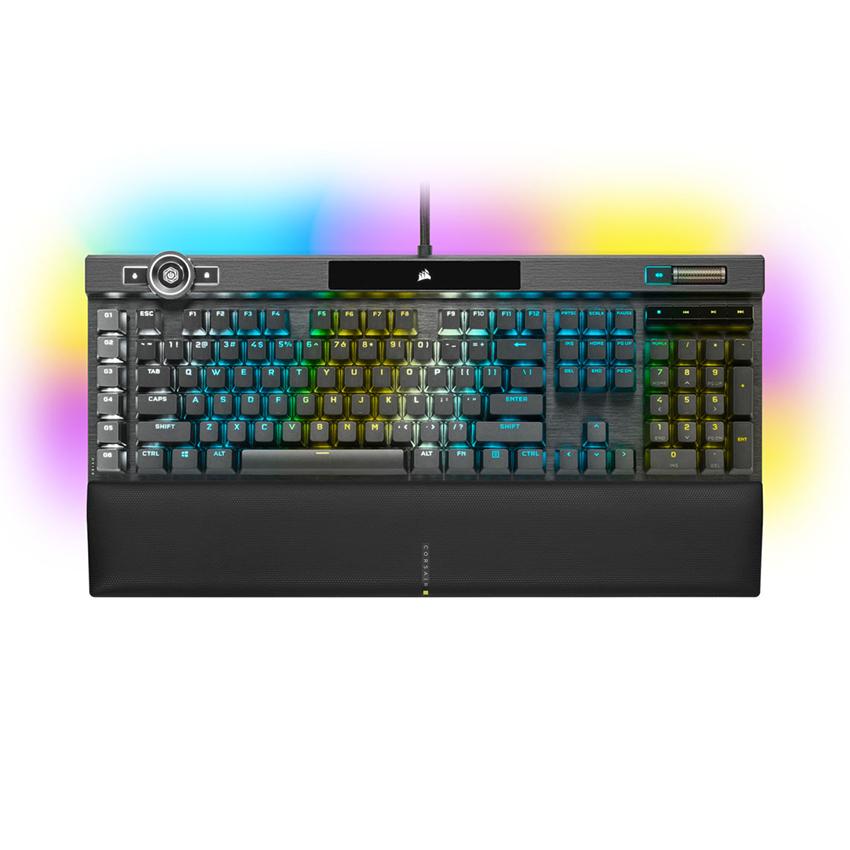 As a result of our testing, we found that the keyboard had great response times, a wide range of keys for most hand sizes and a gratifying tactile click for each push. Despite the fact that this is all common knowledge, it demonstrates that the K100 RGB does an excellent job of covering the essentials while also adding a slew of extras. For this reason, it takes the top spot.
Mountain Everest Max
SPECIFICATIONS
Red, Blue, Brown, and Silver Cherry MX switches
Full or TKL
Per-key RGB backlighting
USB 3.2 Gen1 pass-through
Controls for the media: a separate device
Magnetic, fluffy wrist rest
The Mountain Everest Max gaming keyboard aims to be all things to all people. Since the moment it got on my desk, it's been one of my favorite designs. The numpad on a full-size keyboard isn't something I require all the time, but it does come in handy at work. During gaming, I just want a TKL board that can bring my mouse and keyboard closer together, allowing me to spread out my rodent throughout the desktop.
The Everest Max allows you to have your TKL cake and eat it too, allowing you to have the best of both worlds. To enter a number, use your numeric keypad. Whatever. It's possible to attach the magnetically attaching numpad module to either side of the mechanical TKL board and swap it out in a matter of seconds.
Magnetic wrist rests, a media module, and an LCD screen are included in the pricey complete Everest Max kit.
You can remove and replace the switches on-the-fly using the board's base, making it ideal for keyboard enthusiasts. As an alternative, you can choose to build your own bespoke keyboard from the ground up, starting with your preferred switches and keycaps.
The only issues I have with the Everest Max are the steep price tag and the shaky start I had with the configuration software. My sample is still being used on a daily basis because it perfectly suits my gaming and working habits.
G.Skill KM360
SPECIFICATIONS
Red Cherry MX Switch
Size: TKL
Backlight: White
Passthrough: None
Controls for the media are integrated.
Wristrest: None
This trend toward $200+ gaming keyboards doesn't imply there aren't high-quality mechanical switch boards available at a more reasonable price in the market at this time.." The G.Skill KM360 comes with the famous Cherry MX Red linear switch right out of the box, which is unusual for these more budget-oriented alternatives.
The single-color option may disappoint those who insist on a rainbow-lit gaming board, but the white LEDs on this G.Skill board are some of the brightest I've ever seen. Because the KM360 is so bright, I can't use it all day long at its maximum brightness setting.
The TKL board is simple, but it does a good job of what it's designed to do. It's sturdy, well-built, and dependable, and it's also aesthetically pleasing. No wrist rest, no pass-through, no media controls — but I'll cheerfully overlook that in favor of the device's low price and wide range of useful features.
Logitech G915 Lightspeed
SPECIFICATIONS
Logitech GL low-profile switch
a full-sized bed
RGB LEDs are used to illuminate the backlight.
Passthrough: None
A Dedicated Set of Controls:
Wristrest: None
The Logitech G915 is an excellent wireless keyboard if you're looking for one. In order to have wireless capability, you'll have to fork over a little more money than you would for a wired mechanical keyboard with the same functions. A somewhat cheaper version of the full-size TKL is available, but not so much that we would recommend it over the standard model.
You'll get a high-quality aluminum board plated in brush finish for your money. The upper right-hand corner of the keyboard has some sophisticated media controls, including a beautiful volume wheel, and there are a few macro buttons down the left side of the keyboard. On a per-app or per-game basis, the Logitech G software allows you to customize these to your liking.
Kailh-made GL key switches are found behind the attractive appearance. You can choose from linear, tactile, or clicky, and if you really want to create a racket, we recommend the clicky option.
Even though it has a lot of features, it has a very small overall footprint, making it one of the more attractive boards on the market right now. For better or worse, the wired Cherry MX 10.0 has it beat there.
Keychron K2 (Version 2)
SPECIFICATIONS
Switch: Gateron
Size: 84-key
Backlight: LEDs in white
Passthrough: None
Media Controls: Shortcuts to common functions.
Wristrest: None
In terms of wireless gaming keyboards, Keychron K2 sets a new standard for price. A good-sized gaming keyboard with outstanding wireless capabilities and Gateron mechanical switches is yours for the low, low price of $69 (USD).
Good build quality and three-device connectivity make changing devices or places throughout the course of the day a breeze. However, the keyboard's switches aren't the best in the business, but they're nonetheless impressive for this price point.
Overall, if you're working from home and need a mechanical keyboard that can handle numerous devices, this is a good option. That doesn't even include its wireless capabilities, which really feel like the frosting on the cake of the Keychron K2.
Wooting Two HE
SPECIFICATIONS
Switching to "Lekker" is a good choice (Gateron)
a full-sized bed
RGB LEDs are used to illuminate the backlight.
Passthrough: None
Media Controls: Shortcuts to common functions.
Separately offered, the wristrest
To further differentiate itself from the competition, Wooting Two HE offers analog action. Keyboards now have the ability to measure the whole range of motion of a key when it is pressed, rather than just sending a simple "on" or "off" signal. Red Dead Redemption 2, Grand Theft Auto V, and Mass Effect are just a few examples of games that make regular use of a combination of analog and digital controls.
In the analog era of gaming keyboards, Wooting was one of the pioneers, and it continues to reign supreme. Using magnets and the Hall effect, the Wooting Two HE achieves extremely accurate analog movement on every key. Every key is analog, which means that you can utilize it in a variety of creative ways.
Those looking for an analog gaming keyboard with a ton of customization options should check out the Wooting Two HE.
HyperX Alloy Elite RGB
SPECIFICATIONS
Cherry MX Blue, Brown, and Red
a full-sized bed
Backlight: Red
Passthrough: USB
A Dedicated Set of Controls:
Wristrest: Detachable
Even though it has the ability to display up to 16.9 million different colors, the HyperX Alloy Elite maintains a minimalist design while still offering the robust functionality we've come to expect from a high-end gaming keyboard. Cherry MX Brown, Blue, and Red are all available. It makes up for the lack of a specialized macro column with its low cost and high-quality, long-lasting construction.
The HyperX Alloy Elite RGB doesn't skimp on any of the bells and whistles. Dedicated media controls, USB passthrough, a removable wrist rest, and full RGB backlighting are all included in this model's spec sheet. Additional silver keycaps for WASD and the first four digits are also included. Full N-key rollover is supported, so you never have to worry about key presses not being registered.
The new HyperX Alloy Elite 2 has just been released, however it appears to only be available on the HyperX website at this time. Despite its attractive appearances, it does not come with a wrist rest. A certain amount of success is achieved while a certain amount of failure is experienced.
Razer Cynosa Chroma
SPECIFICATIONS
Activate the membrane switch (non-mechanical)
a full-sized bed
RGB backlighting for each key
Passthrough: None
Shortcuts for Media Control
Wristrest: None
There are a lot of people out there that prefer a full membrane typing/gaming experience over mechanical keyboards, and the Razer Cynosa is your best bet. A pure membrane switch has its fans, and that is perfectly acceptable; everyone has their own preferences.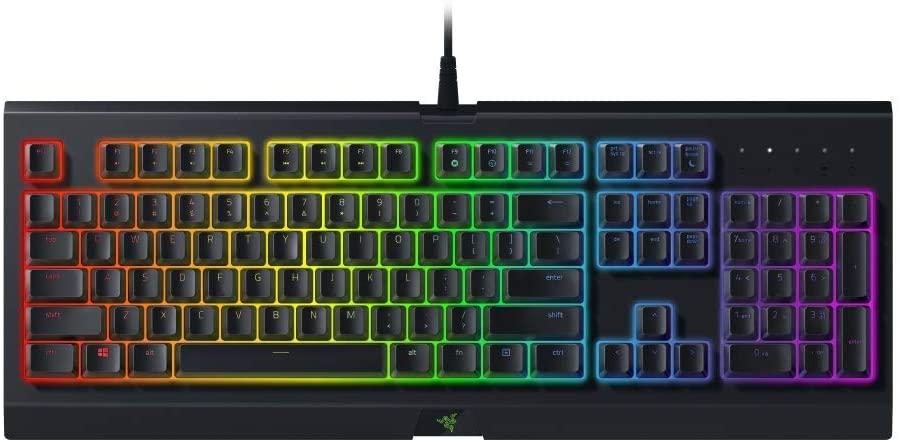 One of the most cheap gaming keyboards on the market, the Cynosa features some of the best-feeling, low-profile membrane keys I've ever tested (well, past a certain threshold of quality). The lack of a dedicated wrist rest or media controls, however, is more than made up for by Razer's rich RGB illumination, which can be customized for each key or applied to entire zones.
In my opinion, this is the best membrane keyboard I've tested out of a wide variety. The Cynosa can be upgraded to a more powerful model. Even still, unless you're a huge fan of "ground effects," I'd advise you to stick with the basic model and save yourself $20.
HyperX Alloy Origins
Best Mainstream Gaming Keyboard
SPECIFICATIONS
HyperX Red switches (linear)
Per-key RGB backlighting
Type: Full-size
Size: 17.4 by 5.2 by 1.4 inches (44.3 x 13.3 x 3.6cm)
For casual gamers who just want to get right into the action, the HyperX Alloy Origins is the best gaming keyboard to choose from. From the keys to the frame to the brilliant RGB lighting, this keyboard has a quality look and feel. The red switches on this keyboard will be familiar to those used to linear switches. HyperX aqua switches, which can be purchased on Amazon and HyperX's website, have also been tested.
If you're willing to spend more than $100, you can get a gaming keyboard with additional features like media controls, a USB pass-through port, or more advanced software. However, the Alloy Origins excels at what it does offer.
HyperX also offers a smaller, less expensive version of this keyboard, the HyperX Alloy Origins Core, which is tenkeyless (there is no numpad).
Asus ROG Strix Flare II Animate
SPECIFICATIONS
NX Red/Brown/Blue or Cherry Red/Brown/Blue, Hot-Swappable Switches.
Per-key RGB backlighting
Type: Full-size
17.4 x 5.4, and 1.66 in (44.3 x 13.8 x 4.1cm)
The Asus ROG Strix Flare II Animate is an excellent pre-built gaming keyboard at a reasonable price point. Although the MSRP of $219 is high, it is still less than custom enthusiast boards, with which it can be compared in terms of quality. But wait, there's more. AniMe Matrix is a one-of-a-kind piece of jewelry you won't find anywhere else, so you can show off your new high-end home in style.
You can choose between either Cherry's or Asus' ROG NX red (linear), Brown (tactile) or Blue (blue) on the interior of this keyboard (clicky switches). With the addition of sound-deadening foam and a hot-swappable PCB, you've pretty much covered all the bases. Double-shot PBT keycaps and an aluminum plate ensure long-term durability on the outside. Additionally, there are dedicated media buttons with a volume wheel and a wrist rest that, although being a headache to put in, doesn't need to be replaced.
Aside from the clumsy Asus Aura Creator app, the only thing this board doesn't have is per-key RGB lighting. However, the AniMe Matrix lighting on this board allows you to display custom gifs and images in the upper-right corner of the display. These add-ons can also be used to show players' reactions to particular in-game occurrences.
With a reasonable price range and a sturdy build, it doesn't even feel like a "gimmick" to have this amount of capability in a keyboard light. This is a terrific plank for gamers in both the classic and inventive ways.
Cooler Master CK552
SPECIFICATIONS
Red, Blue or Brown Gaterons are available as switches.
Per-key RGB backlighting
Type: Full-size
18.1×5.3×1.6 inches is the total size (46 x 13.5 x 4.1cm)
Inexpensive isn't always better when it comes to gaming keyboards. The Cooler Master CK552 is a great option for those who don't want to fork over a lot of money for a keyboard. Full-sized aluminum top plate keyboards are usually reserved for the most expensive keyboards, and this one is no exception. Additionally, the CK552 offers a variety of switch configurations. There are Gateron-branded linear, clicky, and tactile switches to choose from, so you can expect a superb mechanical experience even if you're a fan of other mechanical switch manufacturers, like Cherry MX.
While testing the Gateron Red switches for gaming, we found that they occasionally misfired, and this is also true when typing. While gaming may not be its strongest suit, the CK552 makes up for it with onboard memory that can store up to four profiles and on-the-fly macro recording, as well as per-key RGB. Even though the Cooler Master Portal software isn't as powerful as other peripheral software, the CK552 can still be used with it.
Corsair K70 RGB TKL
SPECIFICATIONS
Cherry MX Red, Silent Red, or Speed Silver Switches
Per-key RGB backlighting
Type: Tenkeyless
Dimensions (inches): 14.2 x 6.5 x 1 9 (36.1 x 16.5 x 4.8cm)
Overall, the Corsair K70 RGB TKL is costly, but it still provides a lot of value for the money. Although it's small, the TKL design is sturdy and resistant to damage. Also included are dedicated media buttons and the ability to adjust RGB effects without the need to download any software (of course, for deeper customization, you'll need the iCue app), which is a nice touch.
Doubleshot PBT keycaps made the K70 TKL a delight to use for both typing and gaming. We didn't miss a beat in-game because to their ability to repel sweat as well as smudges. There are even additional, lower-cost ABS keycaps included in the box for aesthetic purposes. It took some time to get used to typing with the keys that close together, though.
With its own multi-threaded SoC, which is 8 times faster than the polling rates of the other keyboards on this page, the K70 RGB TKL can poll at an astonishing 8000 Hz per second. With an AMD Ryzen 5950X processor, we couldn't tell a difference. Onboard profiles (up to 50), tournament-style features, and reactivity of this TKL were more helpful.
Razer BlackWidow V3 Pro
SPECIFICATIONS
Razer Green (clicky) or Razer Yellow (non-clicky) switches (linear)
Per-key RGB backlighting
Type: Full-size
It measures 17.5 by 9.8 by 1.7%. (36.8 x 15 x 2.2cm)
Even if you don't want to use your wired keyboard anymore, Razer Black Widow V3 Pro is the best option for a full-sized mechanical gaming keyboard experience. The BlackWidow V3 Pro has all the features of a full-sized mechanical keyboard, including a tactile and premium volume dial, additional media buttons, an aluminum top plate, and doubleshot ABS plastic keycaps.
When it came to this gaming keyboard, Razer didn't cut any corners. It has four profiles of onboard memory, as well as colorful RGB illumination on each key. Advanced RGB enthusiasts will have to rely on software in order to match RGB, including custom effects, to profiles, as RGB does not adhere to profiles.
You may also use Bluetooth to connect the keyboard to as many as three PCs when using the dongle. Our BlackWidow V3 Pro test device averaged roughly 14 hours of battery life with RGB at maximum settings and no dimming effects, but you can obtain up to 25 hours of battery life with RGB utilizing power saving settings. Power-saving settings kick in when the battery is at 3%, so you'll want to plug it in as soon as possible to avoid any issues with the keyboard.
The Logitech G915 Lightspeed is a wonderful and reliable full-sized wireless gaming keyboard with low-profile switches that some people will appreciate for gaming and others will enjoy for travel. The BlackWidow V3 Pro, on the other hand, offers a premium mechanical gaming keyboard experience.
Patriot Viper V765
SPECIFICATIONS
Kailh Box White switches (clicky)
Per-key RGB backlighting
Type: Full-size
The dimensions are 18.4 x 6.4 x 1.1 in (46.6 x 20.3 x 4cm)
It's true that Patriot Memory is more renowned for RAM and storage than peripherals, but for the price and features it offers, the Viper V765 offers a key experience that's unmatched. In spite of its age, the Patriot Viper V765 is still a top choice for gamers everywhere. There are very few keyboards with Kailh Box White switches, which actuate faster than Blue or Green switches because of their somewhat shortened travel time (3.6mm versus 4mm). In terms of responsiveness, the keys are the best we've tested and even generate a more pleasing click sound than you'll find anywhere else.
The Viper V765 is well-priced for the quality of its switches alone, but it's also aesthetically pleasing. With its tapering edges, the full-size keyboard resembles a metallic space ship. The colorful RGB keys let you experiment with a plethora of lighting effects and even design your own custom color schemes. Most of the RGB effects can be used without installing any additional software. In addition, the media keys and IP56 dust and water resistance are standard features on more expensive keyboards.
As of right now, the Viper V765 is available at a lower price than other similar products. A better software and higher flip-out feet would have improved the V765's standing as our preferred gaming keyboard. However.
Corsair K100 RGB
SPECIFICATIONS
Cherry MX Speed Silver or Corsair OPX RGB (linear)
Per-key RGB backlighting
Type: Full-sized
Inches in length, width, and depth: (47 x 16.6 x 3.8cm)
Corsair's K100 RGB keyboard has more functions than most people could ever need, including ones that you've probably never even imagined a keyboard could have. Corsair's native optical-mechanical switches make their debut, as do an RGB-clad media wheel and a SoC with multi-threading and a 4,000 Hz polling rate (instead of the standard 1,000 Hz polling rate).
When it came to productivity chores like zooming in and out of Photoshop, we found the wheel very useful. However, it was less useful for gaming than some of the other features that make this keyboard so costly.
However, the K100 RGB remains one of the greatest gaming keyboards on the market. We could actually tell the difference offered by the optical mechanical switches' shorter travel and actuation point. Cherry's Speed Silver switches are also an option if you're not a fan of the optical mechanical trend.
However, the K100 RGB remains one of the greatest gaming keyboards on the market. We could actually tell the difference offered by the optical mechanical switches' shorter travel and actuation point. Cherry's Speed Silver switches are also an option if you're not a fan of the optical mechanical trend.
Hexgears Impulse
SPECIFICATIONS
The K100 RGB, of course, is still one of the greatest gaming keyboards on the market. The optical mechanical switches' shorter travel and activation point made a noticeable effect. Cherry's Speed Silver switches are also an option if you're not a fan of the optical mechanical trend.
Of course, the K100 RGB is still one of the greatest gaming keyboards out there. The optical mechanical switches' shorter travel and activation point made a noticeable difference to us. However, if optical mechanical switches aren't your thing, Cherry's Speed Silver switches are an option as well.
Type: Full-size
Its dimensions are 17.25 inches wide by 6 inches long by 1 inch thick (43.8 x 15.2 x 4cm)
Although the Hexgears Impulse isn't ideal, it's the greatest gaming keyboard if you prioritize typing speed. Even our old-school IBM-style keyboard couldn't compete with the Kailh Box White switches on this keyboard.
As a result of this brave decision, Hexgears only used a Blue-style switch under the spacebar, believing that this key should be a little harsher because it is the most commonly used. Initially, we found it odd that only one key had a different switch, but we soon realized that the extra resistance was actually beneficial. Thus, the Impulse was a better typing experience than the Viper V765, which had White switches under all of its keys, including the spacebar.
In addition, tactile Kailh Box Brown switches are now available for the Impulse, and an improved version of this keyboard now features hot swappable switches. Even without a soldering iron, you may easily remove its mechanical switches and experiment with different settings. It is hard to beat the Impulse's combination of features and ease of use.
Razer Huntsman V2
SPECIFICATIONS
Both Razer Linear Optical and Clicky optical switches are available.
Per-key RGB backlighting
Type: Full-size
Inches in length: 17.6 inches in width: 5.5 inches in depth: 1.5 inches
The Razer Huntsman V2 Analog is one of Razer's more complex optical mechanical gaming keyboards, yet the Huntsman V2 is the greatest match for the majority of gamers. With superior switches and a slew of additional features, including great media keys, keys that can be programmed with up to two purposes by holding down a designated Razer HyperShift key, and four onboard profiles that may launch when a specific app is launched.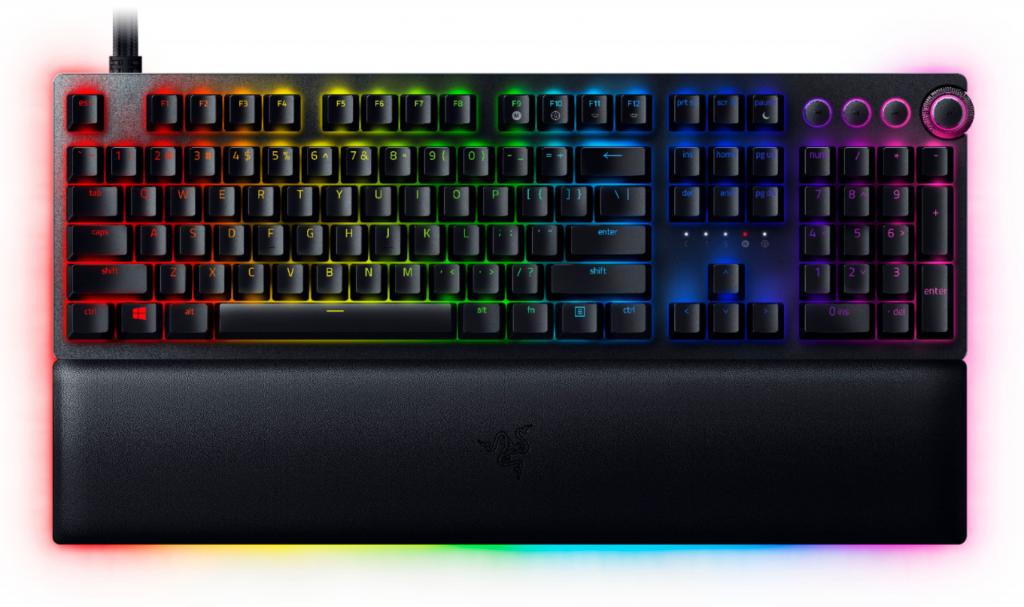 In order to activate its optical mechanical switches, it uses a light beam instead of physical contact. These switches have become increasingly popular due to their smooth operation and the fact that they are expected to last longer than mechanical switches. Razer's 2nd Gen Optical Linear switches, which incorporate sound dampeners, were used to test the Huntsman V2. With these smooth-traveling switches, the keyboard has sound dampening foam that makes for a very quiet experience. With their 1.5mm actuation point and 45g of force required to activate, the clicky alternatives are more ideal for gaming than conventional clicky switches.
Huntsman V2 also features doubleshot PBT keycaps that look and feel great, as well as a detachable plush wrist rest. This is a high-end keyboard in every sense of the word.
Corsair K95 RGB Platinum XT
SPECIFICATIONS
Blue, Brown, or Speed Silver Cherry MX Switches
Per-key RGB backlighting
Type: Full-size
An 18-inch-by-6-inch-by-1-inch piece of wood (46.5 x 17.1 x 3.6cm)
The Corsair K95 RGB Platinum XT mechanical gaming keyboard is well worth the money you'll spend on it. Even though it's one of the greatest gaming keyboards we've tried, the price is high in part because of the inclusion of extras that some may seem superfluous
For the first time ever, Corsair has introduced double-shot keycaps and a padded leatherette wrist rest to its flagship K95 keyboard. Streamers can use the keyboard's six macro keys to control the Elgato Stream Deck software. You'll also be able to save $150 by purchasing an additional Stream Deck. Corsair finishes the mechanical keyboard with recognizable high-end features, such as a brushed aluminum frame, a volume dial, and RGB lighting per key.
A Blue (clicky and tactile) variation of the Cherry MX Brown switches was used instead of the standard Silver Speed switches for this review. It was nice for daily typing, but we would prefer either quieter or shorter-actuating switches for gaming. For example, Cherry MX Red isn't available.
SteelSeries Apex Pro
SPECIFICATIONS
Gateron Red and OmniPoint Linear Adjustable Switches
Per-key RGB backlighting
Type: Full-size
Its dimensions are 17.2 inches wide by 1.91 inches deep by 4.44 inches high (43.7 x 4 x 13.9cm)
We've never seen RGB lighting this good on a gaming keyboard before on the SteelSeries Apex Pro. The keyboard's dark gray frame is contrasted by the bright colors, which illuminate the rest of the chassis. It's even better when the keycaps are raised. In addition, software and on-the-fly controls make the options feel infinite.
Individual key actuation points can be customized with this keyboard's revolutionary actuation point setting feature. The Apex Pro is able to pull off an uncommon and efficient trick here. A GIF or a small image can also be displayed on the OLED screen, which is becoming increasingly common. A hot-swappable keyboard can't compete with the Apex Pro when it comes to customizing it.
Due to the linear feel of the Apex Pro's switches, those who prefer clicky, tactile typing may want to look elsewhere. The aluminum frame will still make a lot of noise, though. This is the keyboard for you if you want to leave your imprint on it.
The SteelSeries Apex 7 is a smaller version of this keyboard, and it's also less expensive.
Cloud Nine C989 ErgoFS
SPECIFICATIONS
Blue, red, or brown Cherry MX switch
Per-key RGB backlighting
Type: Full-size
As stated, the dimensions are 22.1 by 10.2 by 2 inches.
It's difficult to find a split gaming keyboard that's comfortable to use while also having all of the functions you need. Your task becomes significantly more difficult if you want mechanical switches (let alone high-quality ones). And it's because of this feature that the Cloud Nine C989 ErgoFS is so outstanding. In addition to the regular key layout, the keyboard has a non-standard Windows key replacement that you can reprogram, making it far easier to adapt to its wide, split design than with rivals. Aside from that, you get a variety of Cherry mechanical switches (clicky, linear, or tactile), macro keys, a control wheel, and RGB lighting. C989 ErgoFS has all the best characteristics of the top gaming keyboards, even though it's divided.
It's a good idea to make sure you have enough space for the C989 ErgoFS before purchasing it. A tenting angle would be nice, but the keyboard only has a 7-degree slope. There are also no legs. It's nearly impossible to read the keys' legends without backlighting.
Even if you're not familiar with split keyboards, the C989 ErgoFS is an excellent choice if you just want a high-quality keyboard for use in combat.