Do you get a "No Route" message when trying to connect to Discord? The easiest and quickest solution to this bothersome problem is presented below. It's time to resume your Discord conversations.
When it comes to building communities, gamers and other subcultures around the world unanimously praise Discord as a solid application.
However, it can fall prey to a widespread problem when trying to link up with voice channels. This error is known as the "Discord No Route error" because it causes Discord to issue the nebulous "No Route" message.
You've found the right place if this is something you're experiencing. If you're having trouble with this, read on; we'll show you the quickest and simplest way to fix it.
The dreaded "Discord No Route" message has been encountered by many users.
History of Voice Chat and Gaming
The addition of voice chat greatly enhances most multiplayer games. That way, you can save time by avoiding having to type out your plans, steps, and jokes. Before Discord, VOIP (voice over IP) methods like Ventrilo and TeamSpeak were the norm. Even though they were ahead of their time and are still used today, they are not as popular as Discord. Both applications needed a server to be installed on a personal computer. In order to connect to a server using either Ventrilo or Teamspeak, you will need to know the server's address (a URL or IP). When you finally sign up, you'll be able to have in-game voice chats with your pals. So, that's pretty much it. Discord has made it much easier to host a gaming community's communications on a personal computer. Users don't have to worry about setting up or maintaining Discord's servers because the company handles that. A Discord server can be accessed by anyone with an invite from the server's administrator. It could be a personal invite to the server, or it could be a public invitation available to anyone. It's safe and makes forming groups simple. Discord stands out from other voice and text chat services because it includes many extra tools in addition to the basics.
What is Discord?
Discord is a free, downloadable app that enables users to have group voice, video, and text conversations with friends, gaming communities, and programmers. Countless individuals use it every day, making it a top choice for virtual friendships. Windows, macOS, Linux, iOS, iPadOS, Android, and web browsers are just some of the platforms and devices that are compatible with Discord.
What is Discord for?
For expression! A Discord server can be set up by anyone, for anything, and at no cost. You can use it to organize a general group chat with your contacts, whether via text message or voice call. You can use it to talk about your day, share screenshots, memes, and gifs. You can also run it in-game and use the chat to coordinate or make noises. Playing badly? Streaming your gameplay lets your friends watch and either offer tips or just laugh at how badly you're doing. Creators and publishers of video games frequently use the messaging app Discord to distribute free content to their fan bases. On Discord, you can find concept art, newly released screenshots, and even early access to a game.
How to start using Discord?
The 'Home' screen is what you see when you first launch Discord. The main window displays your friend list, while the server list can be accessed from the sidebar. You should find a friend to confide in. You can identify other users in Discord by their tag, which is both a case-sensitive username and an ID number. You can start chatting with them by tapping the "Add Friend" tab at the very top of the main screen. If they accept your friend request, you'll be able to begin a text, voice, or video chat with them right from this page. If you want to include other people in the conversation, you can do so, though doing so frequently may be easier in a server.
How to create a Discord server?
It's simple and free to set up your own server. The Discord client lists available servers on the far left. You can add a server if you haven't already joined one. Following the on-screen prompts and pre-made templates provided by Discord, setting up your own server is a breeze. You can make a server by answering a few questions about its intended use, making it public (where anyone can join) or private (where only invited players can participate), and naming it. You'll be able to adjust any and all aspects of the server as you see fit. Select 'Invite People' from the context menu that appears when you right-click the channel list on the server's left side. In this way, you can send out invitations to people already in your contact list. In addition to inviting people personally, you can generate a link that will allow anyone with access to it to join the server. If someone copies and pastes the link into their browser's address bar, they'll be taken to your app's server. Aside from the main chat channel, you can create separate text and voice chat channels for the server's users. Players of Fall Guys won't be disturbed by those of Rocket League. If you have access to the server's administrative tools, you can remove disruptive players or promote helpful ones.
Discord Voice Chat
Discord's Home screen features a direct message system for instant messaging with friends. Right-clicking a contact's name and selecting "call" will initiate a voice call. They'll know you've called, and you can have as many unrestricted minutes as you like. A set of headphones and a microphone are needed for this call. VoIP is available on servers. Here, numerous users can connect with one another and carry on simultaneous conversations. Coordination in games is simplified because it's like everyone is in the same room. It simplifies online multiplayer gaming significantly. These are typically accessible by all users on the server, though their purpose may be limited. If multiple players want to enjoy the same game but in different game modes, these could be used. You could, for example, separate the Fortnite Battle Royale players into their own channel and the Fortnite Creative players into their own. When you join a voice channel, voice communications are immediately activated and you can hear everyone talking in that channel. The options for voice chat are varied. You can configure it to only broadcast your microphone when you press and hold a key, or it can do so automatically when it detects your voice above a certain volume. Your microphone can also be left "open," or constantly broadcasting.
Discord Text Chat
There can be many chat rooms in a Discord server. You can have a conversation, ask and answer questions, share memes and jokes, and more without raising your voice. While every Discord server begins with a General channel, administrators have the freedom to create additional channels for a variety of purposes. Some examples of such channels are "Announcements" and "Rules" for the server, as well as "Fortnite" and other game-specific channels. The server's administrator and users have the final say. Read-only text channels are ideal for the Rules channel because of their flexibility. Users will have access to most text channels, and while there is no chat filter to prevent the use of offensive language, one is in place to try to prevent the posting of explicit images.
Discord Video Chat
Discord also allows you to engage in video chats if you have a camera connected. To initiate a call with a friend, simply tap their name in your contact list or send them a direct message from the Home screen. The camera-shaped video call icon initiates a one-on-one conversation with the contact you've chosen from the buddy list. Video conferences with up to 25 participants can be hosted by servers. You can initiate them in any available chat room. Once you've signed up, you'll be able to switch your camera on and take part in or initiate a video call. They function similarly to Zoom calls and can be used to convene sizable gatherings.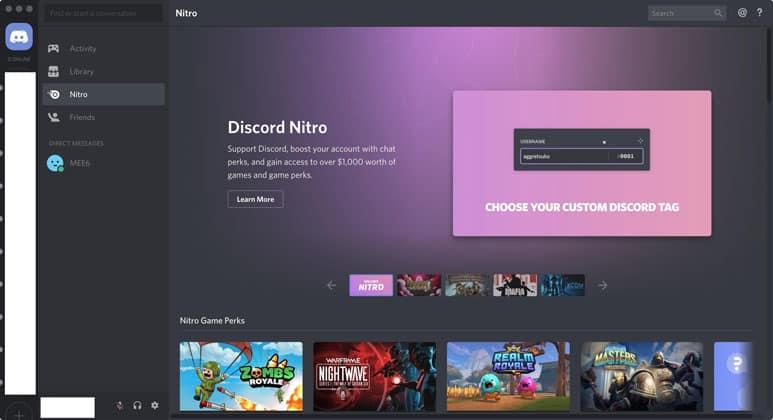 Game Streaming in Discord
Your Discord friends and community can watch what you're doing on your screen. This isn't meant to be a public broadcast like on platforms like Twitch, YouTube, or Facebook. It's a step up from basic video chatting. You can do this via private message on the homepage or via a server-wide public voice chat. It only affects the server you started streaming from and the channel you were watching. It can be used to update friends on your game progress, flaunt your loot, or even ask for help. You can even share the contents of another app, like a paint program, on the screen. While it is possible to broadcast a second screen simultaneously with your video feed, picture-in-picture mode is not supported. Streaming resolution is capped at 720p at 30fps unless the user purchases the Nitro add-on. Users of Nitro can stream at 60 frames per second at resolutions up to the source's maximum.
What is a public Discord server?
The number of games with their own dedicated Discord server continues to grow. They serve as a hub for the community to interact with one another and the developer to spread news and information about the game. Joining a server is as simple as clicking the "Explore Public Servers" button or accepting a public invitation. There are nearly 800,000 active monthly users on the Official Fortnite Channel who post and discuss gameplay videos, group requests, and screenshots. You must accept these rules before you can use any of the chat servers. Simply reading the 14 rules—which include things like not sharing personal information or harassing other users or linking to potentially harmful websites—and clicking a box indicating your agreement is all that is required. If you do that, you can feel safe participating in community life. If you get kicked for breaking the rules, you might not be able to join the server again.
What are Discord roles?
Discord servers allow administrators to customize user permissions. A powerful tool for regulating the behavior of other users. They have the power to set server-wide access restrictions and liberties. This means you can set up a supporter role with the authority to make new voice and video channels, lock existing ones, and kick or mute users. If you don't want anyone on the server to use video chat, you can disable it for everyone by making it a requirement for a specific role. You should only give someone more privileges than a regular user if you know you can trust them to use them responsibly.
Discord Privacy Controls
You can enable various security and privacy settings in Discord, as is the case with most modern software. Messages from unknown senders can be filtered out, unwanted contacts can be blocked, and extra safeguards can be activated if necessary. The official Discord website provides guidance on protecting your account. It is recommended that you check for updates frequently.
Discord Nitro
While a free Discord account grants access to a wealth of features, you can show your support for the service by upgrading to Discord Nitro. With a paid account, you can increase your storage space to 100 MB from the standard 8 MB (or save money by paying annually for $99.99). If you're broadcasting a game or your desktop, you can match your screen's output at up to 60 frames per second, far exceeding the 720p and 30fps caps. Nitro users can personalize their servers with animated emojis and avatars.
Why Does The No Route Error Happen?
If the user's Internet service provider or network connection fails while trying to join a Discord server's voice channel, this error will appear. This means that dropouts, VPN restrictions, and firewalls are the most common causes of Discord's inability to connect to a voice server.
The Fix
Several solutions and instructions for resolving the No Route error are provided below. We have ranked them from most frequent to least frequent.
In most instances, the No Route error can be fixed by applying one of these solutions, or a combination of them.
Method #1 – Restart Everything
The standard remedy for irritated technicians. Experts in information technology for corporate frameworks agree that rebooting your computer and modem/router is the first line of defense.
The goal is to settle a dynamic IP and rid the network of any temporary connection problems. After the reboot is complete, launch Discord and join a voice channel to see if the issue has been fixed.
Method #2 – Firewall & Antivirus
Anti-virus software is typically extremely cautious, only allowing the safest and most frequently used programs and connections due to the persistent danger posed by viruses, trojans, and other forms of malware.
Even Discord isn't immune to this rule. A No Route error may occur if the device is not allowed to establish a connection to a voice channel, for example because it is not whitelisted.
To fix this, launch your antivirus program and allow Discord to make outbound connections to it. To find out how to do this, you'll need to consult the program's documentation.
Whitelisting Discord in Windows 10's firewall is also recommended. Here's the procedure:
To access Windows' configuration tools, hit the Start button and then the gear icon.
Select "Update & Security" from the drop-down menu that appears.
Select "Windows Defender" from the list of tabs located vertically down the window's left side.
To access the Windows Defender Security Center, select it.
To enable firewall and network protection, select this menu item.
Choose "Allow an app through firewall" from the list of options at the bottom of the Firewall & network protection window.
The "Change Settings" box is on the right side of the window, above the program list.
To make your Discord server private, scroll down and select the appropriate checkboxes.
Launch Discord, log into a chat room, and see if the No Route message disappears.
Method #3 – VPN
It is common knowledge that VPNs, especially those that don't support the User Datagram Protocol (UDP), impede the smooth operation of voice channel connections on Discord.
The simplest solution is to simply turn off the VPN, but if you absolutely need to use one, you should contact the program's creator to find out if and how it supports UDP.
Method # 4 – Voice Region
Users who are, say, halfway around the world from the server location may experience connection issues when trying to join a Discord server.
In order to fix this, you should contact the server administrator and ask for different voice regions to be used on the server.
Method #5 – Network Restrictions
External communication apps are frequently the first to be restricted in educational and professional contexts in order to secure the integrity of the internal network.
Access to Discord is probably going to remain blocked unless you're dealing with a very lenient network administrator. But it wouldn't hurt to inquire.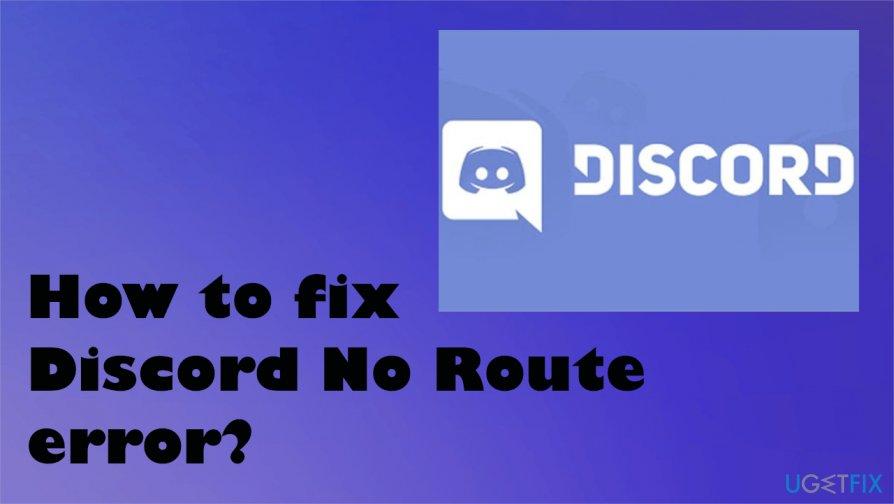 Method #6 – Discord Settings
The "Quality of Service High Packet Priority" setting can be found in Discord's User Preferences. This function is meant to gently prod your modem/router into giving Discord's data packets higher priority, thereby improving the quality of your voice channels.
No Route errors can occur when some devices or ISPs have trouble processing such requests. These are the steps to take if you want to turn off Quality of Service:
To change your Discord settings, launch the app and select the gear icon (the "User Settings") in the Discord window's lower left corner.
From the App Settings menu on the left, choose "Voice & Video."
The option to "Enable Quality of Service High Packet Priority" can be disabled by going to the "Quality of Service" section and clicking the toggle.
You can test if the issue is resolved by connecting to a voice channel.
Best Discord Entertainment Servers
Anime Soul
If you're a fan of manga or anime, Anime Soul Discord is the place to be. There are over 500,000 anime fans in the community on Discord and Steam. This neighborhood is ideal for you if you enjoy staying up late to watch anime with friends.
Paradise Isle
The Paradise Isle is widely recognized as one of the best casual servers available. But video games, anime, art, music, and karaoke take center stage. On top of that, there are always freebies up for grabs on the server.
Memeology
If you want to find some truly hilarious memes, the Memeology discord server is where you need to be. Memeology is one of the largest entertainment servers, with a community of over 400 thousand people. If you're looking for fresh content to share on social media, you've come to the right place.
Best Discord Music Servers
Lofi Girl
Without a doubt, Lofi Girl is one of the most well-known non-official gaming Discord servers. Making new friends and listening to soothing music are two of the main activities in this community. There are many other types of channels available besides music channels. There are over 600,000 active users in the community who you can talk to and interact with.
Karaoke Lounge
Karaoke Lounge is the place to be if you enjoy hearing musicians perform live. This is the place to be if you have musical aspirations or just want to listen to some good tunes. There's a chance you'll meet some people who share your passion for music.
Best Discord Education Servers
Study Together
One of the most well-known educational Discord servers is called "Study Together." You've found the right spot if you're in search of a study group. There are many students from other countries here pursuing a variety of academic programs.
With such a large group of people, it shouldn't be hard to connect with some fellow students who can provide support and feedback. Study With Me is another option for a server you can use.
English
The vast majority of people on Earth are not native English speakers, but many would like to improve their skills in the language. If you want to learn English from native speakers from all over the world, this server is the best place to do it. Debate and discuss topics of interest with other native English speakers.
Homework help
Even though it has a small member base, Homework Help is a very active community. This is the place to come if you're ever having academic difficulties and could use some peer support. The users of this server are a savvy bunch.
Unlike other online communities, the channels on this server are organized by topic. The Homework Helpers server is another option.
Best Discord Tech Servers
Python
There are many Python-specific Discord servers for programmers to join. You can get your feet wet if you're new to learning to code by joining this group. Here, you can talk shop with other programmers about anything from software design to careers to game dev to security and beyond.
Virtual Reality
The VR server is the place to be if you're into virtual reality. It's not just VR enthusiasts or programmers who can use this server, though. New virtual reality (VR) developments will be announced to you first. Users can also participate in free beta tests of numerous forthcoming VR titles.