The ability to swap out parts quickly is one advantage a desktop PC has over a portable gaming laptop. How long, roughly, can you expect a gaming laptop to last? What is it, then?
Answer:
A new laptop's gaming performance should remain stable for about 2 years, and there's no need to worry about the hardware becoming obsolete in fewer than 5 years.
A well-maintained laptop can last for up to 10 years physically, but by that time, technology will have advanced so much that it will be incapable of running games even from the previous generation.
Because of their higher price tag compared to desktop computers, purchasing a laptop specifically designed for gaming is no small decision.
You may be wondering whether or not this purchase will be worthwhile and how well the laptop will hold up over time.
All bases are covered here. This article will examine the typical lifespan of a laptop computer used for gaming.
Find out how long you have before your portable gaming system becomes obsolete and how to keep it cool and running smoothly for as long as possible with our help.
The Hardware
To put it simply, PC games, and by extension, laptop games, cannot achieve this because of the wide variety of hardware that goes into these machines, in contrast to consoles, where games are optimized to run well on the hardware setup for the entirety of a console generation (roughly six years).
In addition, a laptop is portable and lightweight. This requires some component modifications on the part of manufacturers. Consequently, portable iterations of desktop parts will inherently be slower than their less convenient relatives. The good news is that modern technological advances have narrowed this gap to a record low.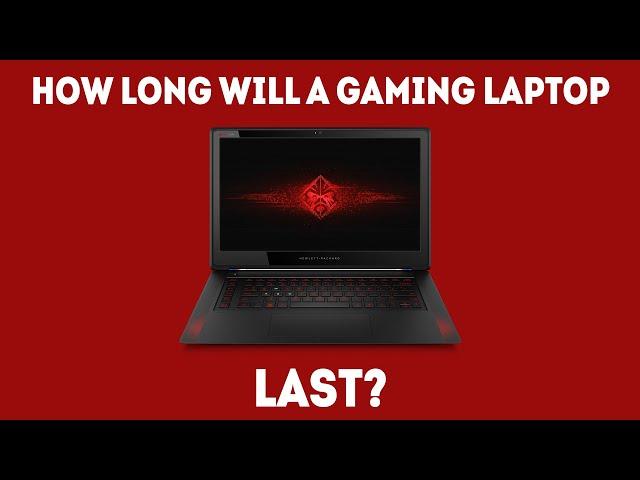 Hardware components have a lifespan of up to 10 years if they are well cared for and not subjected to excessive stress on a regular basis.
Now the question is, how long will it be before the laptop stops running the newest games?
CPU
All high-quality gaming laptops now feature an Intel Core i5 or i7 processor, though some budget models may use AMD's accelerated processing units (APUs), such as the A12, A9, and others in this family.
When assembling a gaming PC, the CPU should be chosen so that the graphics processing unit (GPU) is not slowed down. However, this is not an issue because gaming laptops come pre-built from the factory. So, the graphics processing unit is where your focus should be.
GPU
First and foremost, you should think about how well your GPU performs in specific games at their release. Also, compare the efficiency of one GPU to that of another model.
We found this site to be useful when comparing GPUs. As the results are generated by a large number of user computers, it is not the most reliable source, but it is useful for getting a rough idea of how one GPU compares to another.
But if you want to know how a certain GPU performs in a certain game, the simplest solution is to simply Google it. Keep in mind that ideally, a game benchmark would include the following features:
Give you precise FPS readings, which may consist of a range of values including minimum, maximum, and average.
Let me know which game options were used for the benchmark.
Exhibit the exact settings of the testing PC.
To see how well a laptop equipped with a GTX 1050 handles Deus Ex: Mankind Divided, you could use a benchmark such as the one provided by Guru3D:
It displays the game's average frame rate of 30, as well as the resolution and quality setting, both of which are crucial to the experience. Don't forget that the article the image is from is the best source of information about the device's specifications and other details not included in the image itself.
It's unrealistic to expect to find all the benchmark information you need on a single website, but a quick Google search will turn up a slew of reliable resources, including the aforementioned Guru3D and others like Tom's Hardware and TechSpot.
So, how long will the GTX 1050 be able to give you an average of 30 FPS in a demanding AAA game from 2016?
Because some games are more demanding than others, it's impossible to give an exact answer, but as a general rule of thumb, you may need to reduce some settings in about two years to maintain the initial framerate. However, you won't have to make any major adjustments until about five years after a GPU's initial release.
Finally, we can say that an entry-level card like the GTX 1050 will serve you well for five years before you need to upgrade, while a more powerful card like the GTX 1060 or the GTX 1070 will likely endure for the remainder of their physical life-span. Naturally, though, you'll have to turn down a few controls over time.
RAM
Today, almost any computer will have more than enough RAM to run a game. According to a previous article on the subject, 8 GB of RAM is the sweet spot that won't feel too cramped anytime soon. Even if 8 GB of RAM is standard on a laptop, more memory can be added later.
If a laptop computer has 4 GB of RAM or less, it is recommended that you upgrade the memory. If you don't, you may experience drops in frame rate (FPS) and distracting stuttering due to a lack of memory (RAM).
Gaming Laptop Maintenance
Taking poor care of hardware can drastically shorten a component's lifespan, bringing it down to well under five years in many cases. Additionally, as dust accumulates inside the laptop, heat is generated, making the device uncomfortable to use.
Maintaining a regular cleaning schedule for your laptop of about every six months is recommended. But unlike a desktop PC, you can't just pop open a laptop, remove the parts, and clean them individually. The majority of the dust can be removed, thankfully, without even opening the laptop, using only a can of compressed air.
Here's a step-by-step guide on how to accomplish that:
The vents for the laptop's fan(s) are located on its underside, which can be viewed by holding the device on its side. Keep in mind that a can of compressed air must be held upright to prevent any liquid air from escaping and damaging the hardware, which is why the laptop must not be placed flat on the table.
When clearing out dust from the grille, get in close with the can. The other vents will be spewing dust and debris.
Turn the laptop on its side and upside down to get every crevice.
Iterate for every individual fan intake.
Repeat the steps above until you no longer see any visible dust coming from the laptop.
Cooling
Despite your best efforts to keep it dust-free, your laptop will still generate a significant amount of internal heat. To be fair, though, you have a powerful central processing unit and a powerful graphics processing unit crammed into a relatively small chassis, so this is to be expected.
Luckily, cooling pads are a cheap and easy solution to this problem. One or more powerful fans are included to significantly increase airflow and, in turn, cooling performance. They are easy to use and require no additional batteries or power because they connect to your laptop via a USB port.
The Software
Windows is the most widely used OS, especially among gamers. This is because Linux and macOS have a much smaller library of games available for download. To that end, Windows is the platform of choice for gaming laptops.
But the issue of whether or not your laptop will be able to run Windows 10 in the future remains.
Because Microsoft released a new version of Windows every two to three years, this was a major issue in the past. Users who only use their computers occasionally were not likely to upgrade their hardware in time to run the newer, more demanding version of the operating system, so they were left out in the cold.
It's a different story now, thankfully. The Internet is partly responsible for this. Microsoft has shifted its focus from releasing a brand new operating system every few years to continuously updating and improving Windows 10 for free.
You need not worry that Windows 11 will appear next year with minimum system requirements that are completely out of your laptop's league; of course, Windows 10 won't be around forever, and there is no telling what is in store further down the road, but you can rest assured that you will not need a new computer to run Windows 10.
Plus, there are numerous Linux distributions available to you, a popular open-source operating system that typically runs more smoothly than Windows on older computers.
The Best Gaming Laptops for 2022
Acer Predator Triton 300 SE
Why We Picked It
A mainstream gaming laptop should satisfy the needs of a wide variety of potential buyers, including serious gamers on a budget, casual players, students, and those who plan to use the device for more than just gaming. When it comes to pleasing a wide variety of customers, the Predator Triton 300 SE ranks highly. It's not an ultra-cheap model that feels cheap, but it's reasonably priced, and its 14-inch screen is part of a new trend toward smaller, more portable gaming laptops that you might actually want to carry around. It also doesn't skimp on the basics like actual ports or battery life.
The Triton 300 SE is a "Goldilocks" of gaming laptops; it is neither too small nor too expensive, and it provides just the right amount of power. Many other 14-inch models are premium designs that start at higher prices. (Our test device's GeForce RTX 3060 is a fantastic mainstream graphics processing unit.)
Who It's For
To begin, we'd like to clarify that you need to be specifically interested in a compact gaming laptop for this answer to apply to you. (The standard 15.6-inch screen size constitutes the bulk of the gaming laptop market.) The Triton is aimed at frugal shoppers who are willing to spend a little more than they originally planned. But it will also please more serious gamers who can't afford a monster machine that costs around $2,000. A wide variety of gamers can reasonably expect to benefit from our $1,399 evaluation unit.
MSI Katana GF66
Why We Picked It
When compared to the ever-increasing prices of PCs and their individual parts, MSI's Katana GF66 is a welcome relief for those on a strict budget. Prices start at just $799 and can go as low as $1,199 for the fully loaded configuration we tested at Micro Center. What sets it apart from other affordable options? It has an eight-core Intel Core i7 processor and a low-priced Nvidia GeForce RTX 3060 GPU. As far as value goes, this is a steal.
Obviously, there will be some sacrifices, but they will be small in comparison to the price. The battery life and screen brightness of the Katana fall short of our expectations. However, it covers the basics and more. A GeForce RTX 3060 GPU is uncommon in laptops of this price range, but it easily provides 60fps or more in games with a low entry barrier. The Katana has a 144Hz screen refresh rate for games that can push past 60 frames per second on a mid-range graphics processing unit (GPU), such as the increasingly popular competitive multiplayer games.
Who It's For
The Katana deserves a close examination from gamers in financial straits who have a sizable collection of games. Not to mention, our review unit was equipped with a massive 1 terabyte solid-state drive, making it ideal for the ever-increasing file sizes of today's video game installations, which are becoming increasingly common. Overall, the Katana GF66 is an excellent buy and is our Editors' Choice recommendation for frugal shoppers.
Acer Nitro 5 (2021, 17-inch)
Why We Picked It
In our comprehensive review of this massive Nitro, we use a model that costs a little more than what we called the "budget" range at the beginning of the piece. However, there are a wide variety of Nitro 5 laptops in the lower price range, and the series has been around for a long time and through several iterations of the Nitro 5. The 15.6-inch screen size is where the bulk of the market is, and since 15.6-inch panels are the most cost-effective to mass-produce in laptops, you'll find more budget models in that size than you would in the 17-inch size.
If you're on a tight budget, I recommend looking at the 17-inch Intel-based Nitro 5 configurations starting at $1,099 (note that the Nitro 5 is also available in a 15-inch-class model). While we tested a top-of-the-line Ryzen 7 system with a RTX 3080 graphics processing unit, you can get a Core i5 or i7 CPU and an RTX 3050 or RTX 3050 Ti graphics processing unit for the same or slightly more than the starting price of our sample unit. All that space on the screen and all those ports are yours for the asking. The Nitro 5's display panel's brightness betrays its low-priced origins a little, but it's fine for casual in-home gaming on a large screen.
Who It's For
The latest Nitro 5's lower-end configurations will appeal to gamers on a tighter budget who still want a massive display. Fits the bill if you don't plan on moving your laptop around much, or if you want a large-screen portable, and it comes with wired Ethernet, which is no longer included in all gaming laptops.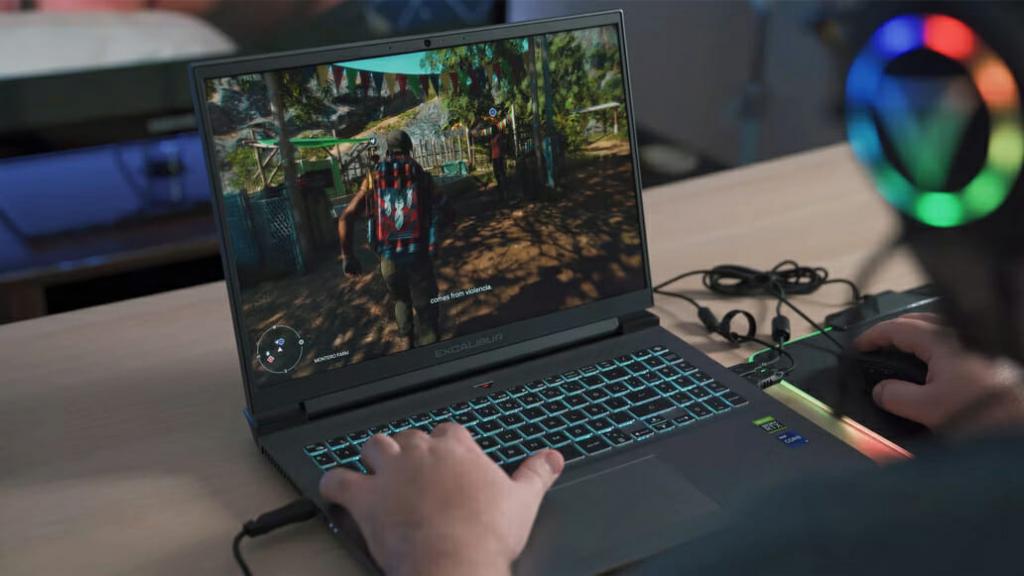 Acer Predator Helios 300 (2022, PH315-54-760S)
Why We Picked It
Both in 2020 and 2021, we rated the Predator Helios 300 by Acer as a four-star product, making it an Editors' Choice. This 2022 version didn't manage a hat trick, but it's still a great deal considering the size of the display and the cost. The Helios 300 is available in 15.6-inch and 17.3-inch displays with prices starting at $1,199.99; the 15.6-inch, 144Hz display model we tested in 2022 costs $1,299.99. The above-mentioned MSI Katana GF66 is a more cost-effective option (mainly due to its sizable SSD), but the Helios 300 has a superior screen. (That's what you look at the most on a laptop, by the way.)
Otherwise, the competition is very close. For the price, the GeForce RTX 3060 in the Helios 300 we tested performed admirably and was a fine match for the 1080p display. In addition to games and light media editing, the eight-core Intel processor inside should be more than adequate for any other productive use. A deciding factor for some, perhaps There is a programmable RGB keyboard on the Helios.
Who It's For
The newest iteration of the Helios 300 will please gamers who are looking for a midrange gaming laptop with some flash, a lot of pep, and a reasonable price tag. However, competition is so fierce among laptops in the $1,100 to $1,300 price range that you should actively seek out new entries and discounts on a weekly basis.
Alienware m17 R4
Why We Picked It
The availability of a mechanical keyboard with Cherry switches seems to be uncommon on laptops designed for gaming. There aren't very many. The Alienware m17 R4 is highly customizable, but how many other laptops can say the same? That simplifies everything down to a single category.
We tested an extremely powerful m17 with a Core i9 CPU, three SSDs, and a GeForce RTX 3080, but you can also get one with less powerful components for less than $2,000. Additionally, the m17 R4 excels in the middle ground. The build quality is superb, the keyboard is a cut above average for a gaming laptop (especially if you go with the Cherry option), and high refresh rate displays are available, reaching up to a (yes, probably overkill) 360Hz. Furthermore, in benchmark and gaming tests, our sample absolutely screamed.
Who It's For
The core of this product's market consists of aspiring gamers. (On the other hand, those who plan to frequently transport their laptop should keep looking; the m17 is large, and the power brick is heavy.) This laptop will appeal to those who enjoy playing games on a large screen and place a premium on a comfortable typing experience when on the go. A love for Alienware's signature aesthetic is also a must: From a distance of one hundred meters, it cannot be mistaken for anything else.
Razer Blade 15 (2022)
Why We Picked It
The Razer Blade 15 is one of our go-to high-end gaming laptops because it strikes the perfect balance between raw processing power and arguably the best physical design in the industry. Truth be told, this is a high-end option for high-budgets, with the 2022 edition starting at $2,499.99 and our review unit costing $2,999.99, but the newest components from Intel and Nvidia take its performance to new heights. The combination of the latest GeForce RTX 30 Ti graphics processing units (GPUs) and Intel's 12th generation 'Alder Lake' central processing units (CPUs) provides a higher power ceiling than ever before while maintaining the same lauded thin, all-metal design. Additionally, the screen resolution is increased to Quad High Definition (QHD) from the more common 1080p.
It's not a major upgrade to the flagship system's design. However, a premium product that is already popular needs only minor adjustments, and only major updates every few years. You can tell it's an incremental update because the 2022 version has larger keycaps, redesigned speakers, and an improved power button.
Who It's For
The Blade 15 is the best option for those looking for a powerful yet portable laptop that is larger than a 14-inch screen. With our Core i7 and RTX 3070 Ti setup, we easily break 60 frames per second in the latest games (at full HD resolution and its native QHD) and soar past 100 frames per second in less demanding games without sacrificing the system's streamlined appearance. You can find 15-inch machines with better raw performance (Lenovo Legion 7) or portability (Asus ROG Zephyrus G14), but this one strikes the perfect balance between the two.
Asus ROG Strix Scar 17 (G733)
Why We Picked It
Need to maximize your gaming laptop's screen size and resolution at the same time? This Scar will leave a monetary dent in your pocket, but it's worth it. It's exactly what one would expect from a top-tier gaming laptop. DDR5 memory and up to an Intel Core i9 "Alder Lake" processor are at your disposal. The GeForce RTX 3070 GPU was installed in our evaluation unit. Additionally, the 17.3-inch screen's native resolution is improved to a finer QHD (2,560-by-1,440-pixel) panel. According to our benchmarks, the 240 Hz screen has good color coverage, and the MUX switch in the laptop helps mitigate any delay introduced by routing the GPU signal through the IGP first.
The long battery life and quiet fans are welcome bonuses, but the device really shines in every other respect. And if you're into flashy RGB lighting, the Scar will be the highlight: As well as the keyboard, it also extends to the chassis's outer edges. The fact that you have to buy a separate webcam from Asus is our biggest complaint about the device.
Who It's For
The Scar is a great buy for those willing to shell out a hefty sum of money and who are in the market for a gaming laptop with the largest display possible. It has all the classic proportions of a large gaming laptop while also featuring a slew of modern improvements.
Asus ROG Zephyrus G14 (2022)
Why We Picked It
Although the competition among 14-inch laptops is fierce, the ROG Zephyrus G14 emerges as the top dog when cash is no object and central processing unit (CPU) speed is paramount. It has a sleek and portable design, a long-lasting battery, and performs better than comparable devices in benchmark tests. (An ultra-modern AMD Ryzen 6000 series processor was used.) Assuming you can afford it, it is, without a doubt, the most potent gaming laptop available, capable of outperforming even some desktop PCs. The G14 and the competing Alienware x14 both begin at $1,649.99, while the G14 review configuration we used cost $2,499.
For a short time, the Alienware x14 (below) was our favorite ultraportable gaming laptop. Although excellent in its own right, the G14 excels in a few key respects. Super-important in this field, it demonstrated objectively superior gaming performance numbers. It can easily maintain frame rates of more than 60 fps in AAA games, and its 120 Hz screen is put to good use in esports. After being put through its paces, the G14's battery life was noticeably longer than that of the G12.
Who It's For
Anyone who wants to win in competitive video gaming, improve their computer's processing speed, or create content in other areas will benefit from this. All gamers, however, should share a common goal: a portable gaming laptop. Compared to the Acer Predator Triton 300 SE, it may not be the best deal, but it is still a powerful little PC. Plus, it has a fun customizable light-up outer lid that dazzles with an elaborate array of LED pinpoints, making it perfect for bling hounds. Asus calls this function the "AniMe Matrix," and it can be used to show off personalized animations, messages, and more. If flashy jewelry is your thing, this is for you.
Alienware x14
Why We Picked It
The 14-inch laptop is unquestionably a new trend, and Alienware's x14 is among the best examples of this portable form factor. Even though the x14's small stature might make some worry about its performance, it still manages to punch well above its weight class.
With a starting price of $1,649.99, this is clearly not a cheap system. (A $2,299.99 setup was put through our tests.) In exchange for the price, however, a potent combination of portability and performance is produced. Certainly, the 14-inch size is where Alienware's recent aesthetic makeover in the "X" series really shines, as opposed to the larger X models. Our review unit provides a robust gaming experience that is on par with or even exceeds that of competing laptops thanks to its Intel Core i7 "Alder Lake" processor and Nvidia GeForce RTX 3060 GPU. Our tests suggest that even the most demanding games can be played at 60 frames per second, and perhaps even more quickly paced esports titles.
Who It's For
If you're a gamer on the PC and are looking for a portable travel companion, you should consider this option. Some people prefer the Alienware brand because of its unique design, despite competition from the Asus Zephyrus G14. And that's fair, because being ultra-portable is a major plus at this display size, resulting in a portable gaming rig that you can be proud to show off.
Gigabyte Aero 16
Why We Picked It
There are many laptops designed specifically for gaming (like the Alienware or Acer Predator) and others designed specifically for creating content (like the ConceptD or ProArt notebooks from Acer and Asus, respectively). Then there are crossovers, which function similarly to SUVs but aren't station wagons.
One of the best hybrid machines is the Gigabyte Aero 16. This Aero, like many of its predecessors, boasts cutting-edge hardware in the form of a 4K OLED display, powerful Nvidia RTX 3080 Ti graphics, and the newest Intel Core i9 processor. The fact that it can also handle AAA games is merely a bonus. Graphic design, video editing, and animation are no match for this content mill. It's not just a bulked-up gamer thanks to the brilliant OLED display. Most games won't benefit from the super screen's glorious picture and great color, but your artistic endeavors certainly will.
Who It's For
The panel will attract video editors and graphic designers who will finish their work for the day so they can stay and play. The battery life isn't great, so it might not be the best choice for every creator. However, if you're looking for a powerful (if pricey) laptop for video editing or media work with some gaming on the side, this is a great option. Very few people working in the media wouldn't want one.
Origin EVO17-S (2022)
Why We Picked It
While some of the other choices take size or cost into account, this one doesn't hold back. The Origin EVO17-S is your best bet if you have unlimited funds, as it sacrifices efficiency for raw power. The latest hardware from Intel and Nvidia offers unmatched gaming performance and a suite of extras that will please shoppers with deep pockets.
The 17-inch display is large enough to replace a desktop, and the chassis is well-built and lightweight (6 pounds), providing a desktop-like experience. Extreme lightness is impressive in light of such strength: Our review configuration's Intel Core i9-12900H CPU and Nvidia GeForce RTX 3080 Ti GPU breezed through our benchmark tests.
Who It's For
gamers with a lot of disposable income who are obsessed with speed and want the latest and greatest hardware. When it comes to performance and frame rates in the newest games, this is the best laptop you can buy.
Asus ROG Zephyrus Duo 15 (GX551)
Why We Picked It
Having only one screen in your laptop when you could have two is a waste of money. The first generation of Asus Duo models impressed us with their seamless integration of two displays, and now they're even faster. While we'd recommend one of Asus' more affordable configurations, the Duo is compelling enough for a subset of gamers that it deserves to be treated as a separate category. We tested a version of this machine with a stack of AMD Ryzen 9 processors.
It's a specialized product, as having a second display is still more of a perk than a must-have, but there are still dozens of uses (not just in gaming, but in regular life as well) for the added screen real estate. You don't have to sacrifice performance to keep this unusual machine at a manageable size thanks to the extra screen's tilt-up design, which improves internal ventilation and viewing angles.
Who It's For
The Duo is an unconventional answer to a problem that many gamers may not even be aware they have: the desire to keep a second panel open while playing, for purposes such as between-player conferencing, viewing a game-walkthrough website, or simple game streaming. And that second screen could be invaluable for regular computing and work tasks, allowing you to keep notes, real-time messages, or palettes visible below while you focus on the primary screen above.
How to Buy a Gaming Laptop
While the price of a gaming system will typically be higher than that of a standard consumer laptop (due to the higher quality of its components), the range is quite large, spanning from well under a grand to $4,000. Laptops designed for gamers on a budget can be purchased for as little as $750 and as much as $1,250. In exchange, you get a machine capable of running games in full HD (1080p) on low settings (for most games) or at maximum quality (for simpler games). The drive could be a traditional hard drive, but a solid-state drive (SSD) of modest capacity is more likely. The primary storage device should always be an SSD, and hard drives are now typically only found in secondary roles in larger laptops.
Do you want an upgrade? A higher-quality 1080p display (which will support high refresh rates; more on this in a moment) and support for virtual reality (VR) headsets are available on mid-range systems, allowing for more fluid gameplay at high or maximum settings. Prices for these variants are expected to be between $1,250 and $2,000.
Meanwhile, high-end systems should ensure fluid gameplay at 1080p with all graphics settings at maximum, always on a high-refresh screen. If the display can handle it, they may even let you play in 4K. A high-end model also needs to be capable of running a virtual reality headset and connecting to multiple displays. Machines with fast storage components like PCI Express solid-state drives typically cost more than $2,000 and usually hover closer to $3,000.
QHD (2560 x 1440 pixel) and 4K (4096 x 2160 pixel) displays, a hard drive to supplement the SSD, and ultra-efficient cooling fans are optional on some laptops in this price range. These days, many of them even come in relatively slim and portable varieties, all thanks to technological progress. High-end performance in a thin chassis or maximum power in a bulkier design are both available at a premium on laptops in this price range.
Put the GPU First: Which Gaming Laptop Graphics to Get?
The graphics processing unit (GPU) is the single most important part of a gaming laptop. If a laptop doesn't have a dedicated graphics processor from Nvidia or (less frequently) AMD, we don't consider it a gaming laptop.
This is a brief primer for the uninitiated: A GPU's performance typically increases as the series number rises. The '30' in the Nvidia GeForce RTX series denotes the generation, so an RTX 3080 will typically produce higher frame rates and higher-quality graphics than an RTX 3070, and so on down the stack. Nvidia currently produces discrete mobile GPUs based on its "Ampere" microarchitecture, making it the market leader. Ampere graphics processing units (GPUs), also known as GeForce RTX 30-Series GPUs, made their debut on laptops in the first half of 2021.
In 2022, graphics processing units (GPUs) from the older "Turing" (20 Series) generation will be largely obsolete, having been replaced by the RTX 20 Series. However, you can still find some older models of laptops for sale at certain online stores, even though they are no longer manufactured. As a nod to the ray-tracing technology that the platform offers for improved in-game visuals (with games that support it), the latest generation of high-end GPUs found in laptops now go by the name "RTX" rather than "GTX".
Compared to their desktop counterparts, Ampere laptop GPUs don't quite measure up in terms of performance, but they still deliver very strong numbers and can do ray tracing, something Turing can't. However, we've discovered that the power that laptop manufacturers deliver to the GPU can have a significant impact on the performance of the same GPU in different laptops using Ampere. To see the results of our mobile Ampere testing and learn the reason for this, please click here. Buying a laptop is now more involved than based on the name of the GPU alone. It is now more crucial than ever that we conduct separate tests on each system.
Additionally, Nvidia introduced the RTX 3070 Ti and RTX 3080 Ti, two high-end graphics processing units for laptops, at CES 2022. As with the RTX 2070 Super and RTX 2080 Super, which we have also reviewed, these push the power ceilings even higher from the base GPUs and give laptop manufacturers even more granular control over performance and pricing.
Let us now descend the chain of command a little bit. The GeForce RTX 3050 and RTX 3050 Ti debuted in the spring of 2021, and sit directly below the flagship RTX 3070 and 3080 in the 30 Series hierarchy. The recently announced RTX 2050 joins these, positioning itself as a middle ground between the current generation and the one before it. While unusual, the lack of availability of 30 Series GPUs explains the product's last-generation name and the odd release window.
These GPUs are more affordable alternatives to the high-end RTX 3070 and RTX 3080, and they can be found in budget gaming laptops (or the base configurations of higher-end machines) where they bring Ampere architecture and, most importantly, ray-tracing to the masses. (Check out our introductory piece on ray-tracing on the PC.)
The GeForce GTX GPUs mentioned earlier fall below the RTX 3050. The GTX 1650, GTX 1650 Ti, and GTX 1660 Ti are all examples of Turing-architecture-based GPUs that lack ray-tracing support. Despite lacking expensive GeForce RTX features like ray tracing, these still provide playable performance in games at full HD/1080p resolution. (We'll go into this in greater detail in the section on affordable gaming laptops, which is where it belongs.)
These GTX graphics processing units are weaker and older, but they are still useful. While these GPUs are still appearing in the cheapest gaming laptops and non-gaming systems that want to provide some discrete GPU power, they are quickly being replaced by the GeForce RTX 3050 and RTX 3050 Ti. The GTX 1650 Ti, for instance, is used in portable gaming laptops like the Razer Blade Stealth 13, and in non-gaming laptops that could use some graphics oomph, like the Dell XPS 15.
Nvidia's dominance in graphics hardware persists, but AMD, its main competitor, is gaining ground. Radeon RX 5000 and RX 6000 Series graphics processors are appearing in an increasing variety of portable gaming machines. Even though we occasionally see Radeon GPUs paired with Intel processors, the use of AMD graphics with AMD processors is becoming increasingly common. Some AMD-on-AMD CPU/GPU machines were available (at least on the websites of Dell and MSI). Only a small number of systems, including the MSI Delta 15, have been equipped with the newest graphics processing units (GPUs) like the Radeon RX 6800M, RX 6700M, and RX 6600M.
Despite this complexity, some foundational insights into graphical performance can be gleaned. By 2022, a single middle- or high-end discrete GPU will be sufficient for driving VR gameplay and running the latest AAA games in full 1080p with most extra features enabled on a standard display. Smooth 1440p gaming is now the norm, thanks in large part to the RTX 3070 and 3080, and the latter GPU has made 4K gaming on laptops a distinct possibility for the first time.
With the DirectX Raytracing Sampler (DLSS) technique, high-end GPUs can even force ray-tracing at higher resolutions in certain games. It's still not guaranteed that even the most powerful laptops can run the most demanding games at 60 frames per second in 4K with ray tracing enabled, but it's a lot more likely that you can do either. When the RTX 3080 Ti becomes available, we'll also test its performance to see if it offers any improvements.
The Panel: How High a Refresh Rate to Get in a Gaming Laptop?
For 1080p gaming, the RTX 3070 or RTX 3080 may have seemed like overkill in the past, but there are now a number of factors that can use that extra power. The standard for gaming laptops now is a screen with a high refresh rate, which shows high frame rates in their entirety to improve the experience. In order to reap the benefits of a high-refresh panel while playing demanding games, you will need a robust graphics processor. You can recognize these devices by marketing language that emphasizes screen refresh rates of 120Hz, 144Hz, or 240Hz. (The standard refresh rate for a laptop screen is 60 Hz, but the latest gaming laptops have displays that can refresh at least 100 times per second.)
In order to display more than 60 frames per second (for example, up to 144fps, in the case of 144Hz screens), the most popular option is a 144Hz panel, but some high-end models also offer 240Hz and 360Hz options. This makes the game look smoother, but it's usually only possible with high-end graphics processing units. Moreover, as more games incorporate the technology, you will wish you could turn on the aforementioned ray-tracing techniques (think real-time lighting and reflection effects), which are demanding to run.
Even if you think playing games at full HD (1080p) resolution won't be too taxing, you still have plenty of reasons to go with an RTX 3070 or RTX 3080. You aren't completely out of luck if you can't afford the top-end chips, as DLSS can also help less powerful hardware like the RTX 3050 run or enable ray-tracing with limited downsides. There is not yet widespread DLSS support, but it is showing up in more and more games.
Nvidia's G-Sync and AMD's FreeSync are more realistic alternatives. They allow the laptop screen to rewrite the image onscreen at a variable rate that depends on the output of the GPU (rather than the fixed rate of the screen), thereby improving the quality of the gaming experience and reducing frame rate fluctuations. If you have strict visual requirements, you may want to seek out software that supports one of those technologies. Adaptive sync technologies, of which G-Sync is the most common, are becoming more widespread but are still typically found only in high-priced machines.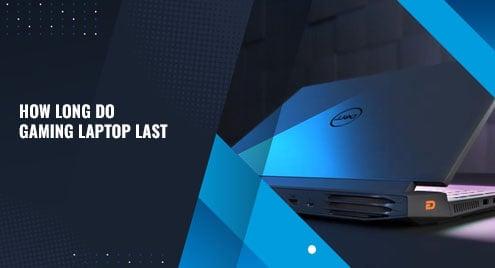 The Processor: Which CPU to Get in a Gaming Laptop?
Early in 2021, Intel released its first 11th Generation "Tiger Lake H" processors (commonly referred to as the "H35" class), with the rest of the more powerful chips making their debut in May. These CPUs dominated the market for Intel-based gaming laptops by the end of 2021. (AMD is next on the agenda.) Although they will still be available in 2022, Intel's 12th Generation "Alder Lake H" chips were unveiled at CES 2022 and are expected to rule the laptop gaming market. In early 2022, we reviewed the Alienware x14, the first laptop to feature Intel's new Alder Lake-H processor architecture, and ran tests on the platform using a powerful Core i9 processor.
Currently, most of the laptops featured here are powered by either a Core i9 processor for enthusiasts, a Core i7 processor for ultraportable gaming laptops, or a brand new Core i5 processor for more reasonably priced machines. The Core i7 and i9 processors have eight cores and sixteen threads, while the Core i5 and i7 processors have six cores and twelve threads. By the end of the year, we can expect to see them gradually phased out in favor of Alder Lake laptops.
Though raw count isn't everything these days, upcoming Core i5 offerings from Alder Lake will have as many as 12 cores and 16 threads. Intel will use its Efficiency cores and Performance cores (or E-cores and P-cores) from its Performance Hybrid architecture, as it did with the successful Alder Lake desktop chips. Find more information on the design of Alder Lake's buildings here.
This isn't to say that increasing the number of cores and threads can't help, though. The flagship Core i9-12900HK will have a total of 14 cores and 20 threads thanks to its combination of 6 P-cores and 8 E-cores. The Core i7-12800H, which is expected to be one of the most popular of these chips, also makes use of this core trio. As soon as laptops equipped with these chips become available to us in 2022, we will put them through their paces.
Most of the Tiger Lake H family is a good fit because more cores and higher clock speeds bring better overall efficiency and much improved performance on multithreaded tasks like media projects. More threads can be helpful for many media tasks, but they may not be as noticeable in gaming. By the end of 2021, laptops designed specifically for gaming had largely standardized on processors like the eight-core/16-thread Intel Core i7-11800H.
A laptop with an Intel Core i3 processor for gaming is possible, but not very common. Although many games can be played on systems with an Intel Core i3 or an AMD equivalent, there's no reason to set yourself up for failure from the get-go. However, if you must choose between a high-end central processing unit (CPU) and a high-end graphics processing unit (GPU), opt for the latter. You should get a Core i5 CPU instead of a Core i7 if the difference in price between the two can be put toward a better graphics processing unit (GPU), such as an Nvidia GeForce RTX 3070 instead of an RTX 3060. If you plan to use your computer primarily for playing games, then upgrading the graphics processing unit rather than the central processing unit is the way to go.
Intel Core i5 processors can be found in mid-range systems, while Core i7 H, HQ, and HK processors can be found in high-end gaming laptops. H-series processors are more potent and can be found in pricey gaming laptops, while U-series chips are less powerful and intended for lighter, more portable devices. In addition to having a different thermal profile, a U-series Core i7 processor and an H-series Core i7 chip may not even have the same number of processing cores. (Intel's 11th-generation U-Series chips have begun appending the letter "G" to their model numbers to indicate upgraded integrated graphics; however, they are otherwise identical to previous U-Series processors in terms of their core functionality).
Although rare, U-series chips can be found in some high-end gaming laptops. It's more preferable to use H. Core i9 H-Series processors, found in the most expensive and largest gaming laptops, are also superior for media tasks. Later in the year, laptops from the Alder Lake U-Series will be released.
Things are shifting on the AMD front. Until recently, Intel's mobile processors were light years ahead of AMD's Ryzen 5 and Ryzen 7 mobile processors. Although they have traditionally been far less common in gaming laptops than Intel's offerings, they do offer their own performance advantages in desktops and laptops.
AMD's new generation of mobile processors based on the Zen 2 architecture changed the game in 2020, coinciding with the success of its desktop chips. Even more AMD laptops were released in 2021 than in previous years, a testament to the quality of the Zen 3-based 5000 Series and the 4000 Series. The performance of these chips was comparable to that of Intel's equivalents in terms of media processing, and it was better than that of Intel's chips in terms of gaming performance at a lower price. AMD also provides more affordable Ryzen 7 and Ryzen 5 processors, and they've proven to be just as powerful.
While Intel's Alder Lake may be able to reclaim CPU dominance on laptops and desktops, AMD is unyielding in its pursuit of Zen 3's CPU superiority. At CES 2022, Team Red announced the Ryzen 6000 Series, codenamed "Rembrandt," which began appearing in laptops in February of that year. This page details the outcomes and interpretations of our preliminary testing with the Ryzen 6000 Series. While Tiger Lake H and Ryzen 5000-based laptops dominate our current recommendations, Alder Lake H and Rembrandt-based machines will soon take their place.
Display Size: What Screen Size to Get in a Gaming Laptop?
The optimal screen size for a laptop dedicated to gaming is 15.6 inches. There are models available with a 17-inch display, but doing so will likely increase the weight to well over 5 pounds and make portability an issue. However, the issue is less open to debate once we consider potential solutions: This point in time, regardless of screen size, the bare minimum for native resolution is full HD (1,920 by 1,080 pixels).
Also, in 2022, we are seeing the introduction of 14-inch panels and 16-inch panels, which are slightly larger than the 15-inch class, as distinct categories of gaming-laptop displays. There are now 14-inch gaming laptops available from a variety of manufacturers, including Acer, Alienware, Asus, and Razer.
Larger screens can provide resolutions higher than 1080p, but you'll need to pick carefully: a resolution of QHD (uncommon), QHD (3,200 by 1,800 pixels), or 4K (3,840 by 2,160 pixels) will add a significant amount to the final price, both because of the panel itself and because of the higher-quality graphics chip required to drive it. If you want more fluid visuals, you should seek out G-Sync or high-refresh-rate displays (as was previously mentioned).
Gaming laptops with a 4K screen (3,840 by 2,160 pixels) are still a rarity and an investment due to the high power graphics processing units (GPUs) they require to run games smoothly at their native resolution. The most powerful graphics cards are required to render complex game animations at playable frame rates across the full screen at 4K, so if gaming is your only interest, a 1080p screen (especially if you can also get a high refresh rate screen) may be a better use of your money. We still don't think it's worth it to seek out 4K gaming in laptops, even though the RTX 3070 and RTX 3080 can handle 4K gaming more affordably than any laptop GPUs before them. However, when coupled with OLED technology, the displays are undeniably attractive.
Gaming Laptop Storage: Stick With an SSD
Since the price of solid-state drives has dropped dramatically over the past few years, you should strongly consider purchasing a computer with one as the primary boot device. SSDs decrease the amount of time it takes to do things like turn on the computer from sleep mode or launch a game and load a new level. Hard drives are becoming obsolete, except perhaps in very cheap laptops and older models.
A laptop with an SSD is a good choice for gamers, but only if it is properly configured. If you want to download videos from the internet occasionally, a 256GB SSD and a large (1TB or more) spinning secondary hard drive is a good starting point. This kind of dual-drive setup is typically only found in larger gaming laptops. You can get an SSD with a storage capacity of 1 terabyte or more, but doing so will significantly raise the price of your gaming rig. For a midrange gaming laptop, 512 GB of boot SSD space is a good compromise.
While solid-state drives (SSDs) offer incredible speeds, hard drives offer much greater storage for the same price. The cost of an SSD can quickly escalate as more storage space is added to it. However, remember that today's game downloads can easily exceed tens of gigabytes. With an SSD that is too small, you may find yourself constantly moving games between folders.
How Much Memory to Get in a Gaming Laptop?
Let's discuss memories now, before we lose them forever. You should aim for 8 GB of memory or more in a gaming laptop. In actuality, no respectable model would ship with less. That will buy you some breathing room when toggling between your game window and your messaging app, but we recommend saving research on game strategies for when you are not actively playing, as each new browser window you open eats into your RAM allotment.
We recommend 16GB of RAM for a high-end system so that you can run multiple games, chat apps, web browser tabs, a webcam program, and a video streaming program all at once without any lag or slowdown. Although 8GB of memory should be sufficient for a midrange gaming laptop, many modern laptops do not allow for memory upgrades. The quantity of RAM you purchase may be the maximum you can get. The sweet spot for a high-quality gaming laptop is 16GB; for the vast majority of users who aren't heavy streamers or multitaskers, anything more than that is unnecessary.
Buying the Best Cheap Gaming Laptop
Shopping for a gaming system on a tight budget (in this case, between about $700 and $1,200) will require some concessions. The goal is to get as much performance as possible for the money, but some of the parts won't be up to par with those in more expensive laptops you might look at. However, if you're looking for a gaming laptop and don't want to spend more than $1,200, you can still get a good machine. Here are some of the best low-cost gaming laptops we've rounded up (on the side).
Since the graphics chip is one of the most expensive parts of a computer and largely responsible for how well it performs in games, its performance is likely to suffer the most. It is important to pay attention to the graphics chip when browsing options, as it almost single-handedly determines the category of laptop you are dealing with. Fortunately, even entry-level GPUs these days are impressive in their own right.
Nvidia's GTX 1650, GTX 1660 Ti, and other budget-friendly Turing GPUs have been standard issue in most previous low-cost PC builds. In laptops with a $799 price tag and below, the GeForce RTX 3050 and 3050 Ti have begun to replace these. These, along with the brand new RTX 2050, represent the entry-level option for RTX GPUs and the cutting-edge ray-tracing lighting technology that the "RTX" moniker connotes, making it accessible to budget gamers for the first time.
The two new RTX 30-Series GPUs should be expected in new laptops in 2022, but the GTX 16-Series will remain available in some new budget laptops as a starting option or mainstream laptops that want any discrete GPU.
You can enjoy 1080p gameplay with the GTX 1650 and GTX 1650 Ti, but only at lower settings in the most recent games. It's less of a concern if you go with the GeForce GTX 1660 Ti, which is surprisingly powerful in 1080p/full HD for the price, though you may still need to lower some settings to maintain a smooth 60 frames per second in some games. In the case of the RTX 3060, this is not nearly as true.
However, the GTX 1660 Ti is the least expensive VR-capable mobile GPU currently available, so some laptops at the upper end of this price range will (just) get you in the door for virtual-reality gaming.
The processor is the second most notable distinction. As opposed to the more powerful Core i7, you're more likely to receive a Core i5, which is still plenty fast. However, the advantages of an i7 machine are more noticeable in video editing and other creative uses than in gaming, so an i5 machine will suffice for these purposes. The most recent iteration of these chips is both fast and efficient at the lowest possible levels, so they shouldn't be too much of a slowdown when it comes to playing games. In spite of their popularity in some high-end and ultraportable gaming systems, Ryzen chips were more commonly seen in budget, general-use laptops over the past year.
When comparing AMD and Nvidia GPUs, you'll notice that AMD is much less common in low-cost gaming laptops. There haven't been nearly as many released in recent years, but the ones that have used the Radeon RX 5500M or 5600M alongside an Intel CPU stand out. (The MSI Bravo 15 is an exceptional but unusual exception.) There is a larger selection of all-AMD laptops than there used to be, but not all of them are built for gaming, and even fewer are priced for students.
The hardware, aside from the monitor and processor, should be on par with or even exceed that of more expensive machines. Although the price gap between hard drives and SSDs is shrinking, hard drives continue to hold on more strongly in this category of gaming laptops than in any other. Be wary of models that only have a hard drive, even if it's 1 terabyte in size; even at this price point, we recommend an SSD boot drive. There is little doubt that it will be a 1080p panel, as lower resolution displays (1,366 x 768) are now reserved for budget non-gaming systems. Budget laptops' RAM will typically max out at 8GB, though you can still find some with 16GB.
What Else Do You Need to Up Your Game?
Don't expect to use any of these gaming rigs far from a power outlet, as high-end components are notorious battery hogs. Look for at least two regular-shaped (aka "Type-A") USB 3.0 ports so you can connect an external mouse and a hard drive to store your media files. While cutting-edge ports like USB Type-C and Thunderbolt 3 are helpful now and will be even more so in the future.
If your PC has a GeForce GTX 1660 Ti or higher and you want to use a virtual reality headset, make sure you have the right port configuration. The headset will determine whether you need an HDMI or DisplayPort video out, so make sure you have one of those installed and enough USB ports for a potential hydra-head of cabling. If your laptop screen is big enough, you probably don't need extra video ports like DisplayPort or mini-DisplayPort (sometimes implemented over a USB-C port) to play games on an external display.
Conclusion
A gaming laptop, if purchased and maintained properly, can last for at least five years. Even if we're talking about a pricey high-end laptop, by the time 10 years have passed the hardware will be hopelessly out of date.
If speed is your primary concern, you can relax knowing that GPUs will remain largely indistinguishable from one another for the foreseeable future. After that point, you'll have to start dialing back the settings to keep getting the framerate you want.