The DualSense controller for the PlayStation 5 looks a lot like the Xbox Series X controller, but the two next-gen controllers are actually quite different. Check out the comprehensive analysis here.
The release of the PlayStation 5 and the Xbox Series X, the next generation of consoles, is less than a year away, so it's no surprise that comparisons between the two are beginning to flood the internet. Specifications of the hardware, the games available exclusively, and the level of compatibility with previous generations have all been hot topics of debate.
Our attention in this piece, however, is going to be drawn to the controllers. Now that both the Xbox Series X and PlayStation 5 controllers have been revealed, we thought it would be a good idea to give you a sneak peek at them.
Xbox Series X Controller
As expected, Microsoft's new controller maintains the company's traditional aesthetic values. The controller is nearly identical to the one included with Xbox One, save for a few minor tweaks.
One of the most noticeable differences is the D-pad, which has historically been a source of frustration with Xbox controllers. The D-pad on the Series X controller has been redesigned to resemble the concave dish on the Xbox One Elite controller's standard D-pad cap. Better platformers and fighters can benefit from the new D-pad's improved responsiveness to diagonal input.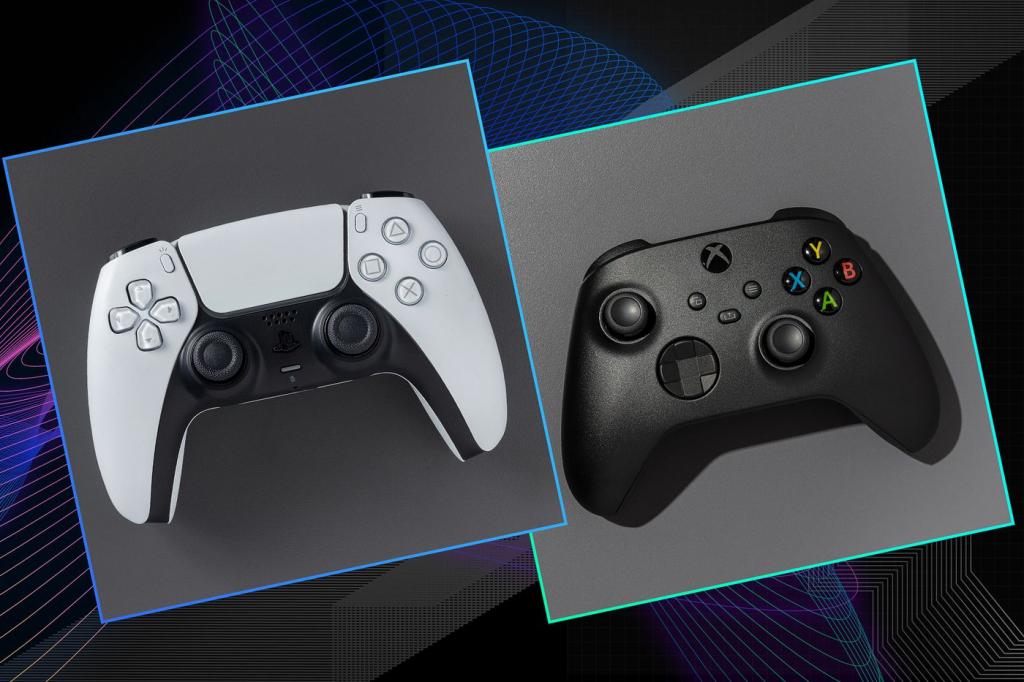 In addition, the triggers have been reworked to be even more ergonomic and tactile, and the focus appears to have been on player comfort throughout the design process for the new controller. The new and improved controller has been slimmed down to better suit the hands of the average 8-year-old, as stated by Ryan Whitaker in an interview.
Fans generally found the Xbox One controller's weight and size to be satisfying, finding it convenient for extended play sessions. Still, some people thought it was too big, so we're crossing our fingers that Microsoft's new Series X controller will be just the right size to please everyone.
There is also a small but significant change on the front of the controller: Microsoft has included a Share button, which will allow the player to take screenshots and record videos without having to navigate through on-screen menus.
In addition, the new controller has a USB-C port on the back for wired connectivity and charging (with a rechargeable battery, of course; it comes with disposable AA batteries).
Overall, the Xbox Series X controller is an improved and refined version of the original Xbox One controller. It seems Microsoft adopted the "if it isn't broken, don't fix it" philosophy this time around, as critics were quick to point out that it doesn't introduce any major new changes to distinguish itself from the previous-generation controller.
PlayStation 5 DualSense Controller
Sony, to our surprise (and that of many others), has renamed their PlayStation controller. To be fair, looking back, we should have seen it coming.
Sony's DualShock controllers date all the way back to the original PlayStation, and the name of the series comes from the inclusion of a rumble feature, which had previously been absent from PlayStation controllers.
Since Sony is ditching the old-school rumble in favor of more precise haptic feedback, it only makes sense to call the new controller something other than the DualShock 5. Enter the PlayStation DualSense.
The most revolutionary aspect of the DualSense is undoubtedly the haptic feedback, which, thanks to its ability to provide highly accurate tactile feedback, has the potential to vastly enhance the quality of the gaming experience. It's unclear, though, if programmers will take advantage of this new feature. Unfortunately, many of the major new features introduced in Sony's controllers in the past have felt more like gimmicks and have only really been experimented with by first-party developers; we hope this isn't the case this time around.
In addition, the Share button will be renamed the Create button, and adaptive triggers will allow players to communicate without the use of a headset. Sony hasn't revealed much about the new button's capabilities just yet, but the name suggests that in addition to capturing screenshots and gameplay footage, it will also facilitate their quick and easy editing.
The DualSense's recent redesign is its most noticeable feature. The DualSense's two-toned black and white design is something we haven't seen on other console controllers, and it makes us think of a custom DualShock 4. As a result, the reaction has been complicated. There are those who welcome the change with open arms and those who despise it, but it appears that few people are ambivalent.
It's not that we have anything against a two-tone aesthetic; however, we do not approve of this new design. The matte black seems to clash with the white rather than complement it.
Perhaps the controller's performance would have improved with a slightly different design, such as swapping the relative sizes of the black and white regions. But this is, after all, a matter of considerable personal opinion. Perhaps we just need some time to adjust.
As a result of Sony's attempt at a more ergonomic design, the DualSense is noticeably larger than the DualShock 4, and its overall shape is reminiscent of the Xbox controller. Perhaps the new two-tone design of the DualSense stems from Sony's desire to set it apart from the new Xbox controller.
Still, the new DualSense looks like it will be a good, feature-rich controller that will have a couple of advantages over the competition; how those advantages actually play out remains to be seen.
Xbox Series X Controller vs PlayStation 5 DualSense Controller
Now that we've had a quick look at both of the new controllers, we can compare what we know about them and draw some conclusions.
Design and Ergonomics
Even though aesthetic preferences vary from person to person, the Xbox and PlayStation controllers are now more similar than ever before.
Although the DualSense's two-tone design may fool you, the two controllers are actually quite similar in size and shape and likely have a similar weight in your hands. Both controllers are aiming to be more ergonomic and lightweight, but their exact sizes and weights are still unknown.
Since the Xbox Series X controller is nearly indistinguishable from its predecessor in terms of function, little was changed in terms of aesthetics. They are repairing the broken parts (like the D-pad) and leaving the functional parts alone.
As we've already established, the new DualSense design doesn't sit well with us, especially since we don't think the contrast between the black and white areas works very well. Therefore, we think the new Xbox controller is the more attractive of the two, unless Sony makes some last-minute changes to the final design (highly unlikely) or offers all-white and all-black variants.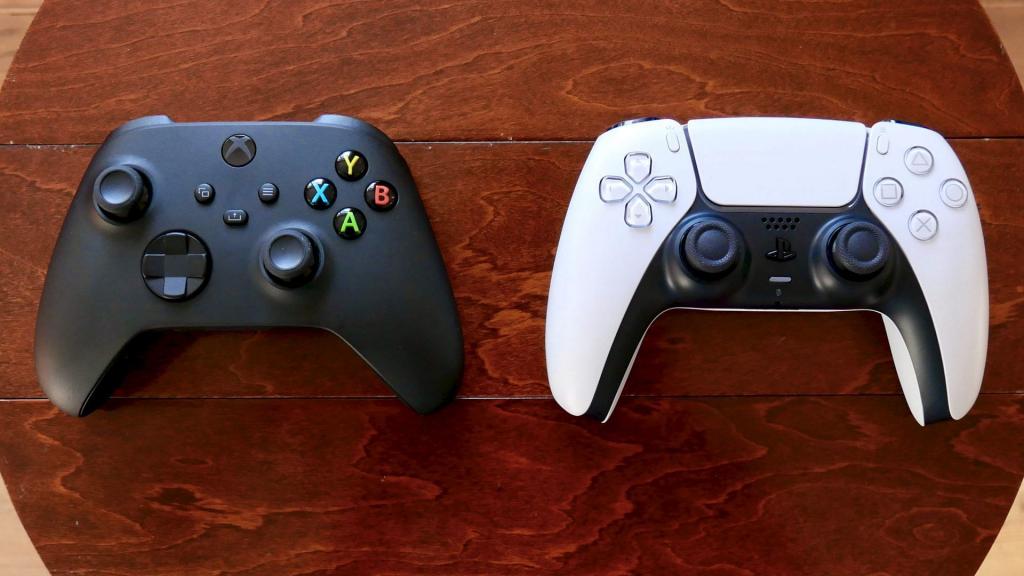 D-Pad and Triggers
The analog sticks, shoulder buttons, and face buttons haven't changed much, and the D-pad and triggers are where this game really shines in terms of control.
There will be adaptive triggers with tactile feedback included in both controllers. Nonetheless, the Xbox controllers' triggers have always been more comfortable to use, and this is unlikely to change given that the shape and size of the triggers on both controllers are largely unchanged from the previous generation. In contrast, the new Xbox controller features textured triggers; however, we need to put them through their paces before passing judgment on whether or not this is an improvement.
Regarding the D-pad, we have previously mentioned that the DualShock 4 D-pad generally felt much better for platforming and fighting games than the Xbox One controller's tactile, clicky cross-shaped D-pad. The Xbox Series X controller's new concave D-pad should remedy the aforementioned problem, though we'd have to compare the two in person to be sure.
Gyroscope
One notable omission from the original Xbox controller was a gyroscope; Microsoft hasn't said whether or not the new controller will have one, so it's likely that it, too, will lack this sensor upon release.
The DualShock 4 had it, and now the DualSense will have it, so this is very disappointing. Gyros allow for more precise camera movement, on par with that of a mouse, making them useful in shooting games and for PC controller use.
Built-In Microphone
The DualShock 4 had a speaker, and now the DualSense has both a speaker and a microphone built right in!
It's true that the DualShock 4's built-in speaker wasn't exactly a show-stopper, seeing as how so few games made use of it. The DualSense's microphone, however, will allow players to have more natural conversations without the need for headsets, greatly improving the experience of online multiplayer games.
As an added bonus, voice controls will be more accessible thanks to the built-in microphone, eliminating the need for a headset or a PS Camera. This feature, while not essential, is missing from the Xbox Series X controller and is therefore a disappointment.
Battery
Like its forerunners, the DualSense will feature an integrated battery. The batteries in the Xbox One Series X controller, on the other hand, will be removable and replaceable by the user. This will give players the flexibility to use either disposable or rechargeable batteries.
Since all batteries eventually wear out, being able to swap them out on your own is a major plus for the controller. The Xbox Series X controller, like its predecessor, will ship with disposable AA batteries, but a high-quality rechargeable battery will cost extra.
Best DualSense Charger For PS5 In 2022
PlayStation DualSense Charging Station $29
The DualSense Charging Station for PlayStation is our top pick because, as is usually the case with accessories like this, it is best to stick with the official option whenever possible. This charging dock also serves as a convenient place to store your white DualSense controllers and console. It can charge two controllers at once and both will be fully charged in about three hours, which is about the same as charging from the PS5's USB port. The controllers dock easily and flash to show they're being charged. The PlayStation DualSense Charging Station is occasionally in stock, but you can currently purchase one from GameStop for $30.
NexiGo Dobe DualSense Charging Station $15
We advise the NexiGo Dobe as an alternative charging solution for around $20. This charger looks like the official one and can power two controllers simultaneously. In about three hours, it can fully charge two DualSense controllers. The NexiGo charging station has built-in safeguards to prevent overcharging, and an LED light indicates the controllers' charge levels as they charge.
Oivo DualSense Charging Station $8
At only $8, Oivo's DualSense Charging Station comes highly recommended by its satisfied customers, who have given it an average rating of 4.6 out of 5 stars in almost 2,000 reviews on Amazon. The kit's controller requires a USB-C dongle to be plugged into it for docking. If one of them breaks, you have three more to use until you find a replacement. LED lights blink on and off at the charging station of an Oivo, and the station can be turned off entirely with a toggle. It's a good deal if you need several stations, and it's a good option overall. However, due to the protection features of the DualSense, it will only charge the controllers to 70% of their capacity.
InnoAura DualSense Charging Station $9
The InnoAura DualSense Charging Station is convenient for frequent fliers due to its small size. Simple in design, this dock can charge two controllers at once. Similar to the Oivo option, InnoAura's DualSense Charging Station is appealing due to its low price (just $7), making it a good option for those in search of multiple docks or a single dock to keep in a travel bag.
Oivo PS5 Stand and Charging Station $40
Perhaps the most appealing feature of this bundle is the PS5 stand's integrated cooling fan, but the inclusion of a charging dock for two controllers is also a nice touch. Two controllers can be fully charged at this station in about 2.5 hours. There's a rack in the back for your games, and it can hold 12 PS5 discs. If you prefer a vertical orientation for your PS5, the Oivo all-in-one stand and charging station is a great choice because it combines the essential features you'll need into a single unit. Even though it retails for $60, you can get it on Amazon for nearly half off.
The Best Controllers For Xbox Series X|S
Xbox Wireless Controller
Starting at $64.99
Shops like Amazon and others carry it, too.
There is no problem with maintaining adherence to the original. The new Xbox Wireless controller (with the share button) is the most basic of the Xbox Series X|S controllers, but it's still a great option for playing games on the Xbox One. There are a number of positive aspects, including the textured hand grips, the straightforward design, and the comparatively lightweight feel.
As an added bonus, this is typically more affordable than other controllers designed for this system. That it can be used wirelessly is a plus, too. Another huge perk is that it never needs to be recharged. Changing to new batteries is as simple as that.
Obviously, you need to go out and buy some new batteries. Unfortunately, they won't last forever. Also, it eliminates the need for an additional electrical outlet.
Xbox Elite Series 2
Beginning at $175.89
Amazon and other retailers carry them.
If you're a fan of the regular Xbox Wireless controller but want a lot more customization options, the Elite Series 2 could be the way to go.
You can change the thumb sticks and the d-pad, among many other parts, and it has a great grip so it won't slip out of your hands. The triggers, thumb sticks, and paddle buttons on the back can all be adjusted to your preferred height.
The controller is pricey, but it will be well worth it if it improves your performance in the game.
SCUF Instinct Pro
Starting at $209.99
SCUF Gaming is the place to get it!
When it comes to personalization, SCUF Gaming's new Instinct Pro controller for the Xbox Series X|S is among the best available. Like the Elite Series 2, you can swap out some of the buttons and customize other aspects, such as the tension of the triggers, to shorten the distance your finger must travel to initiate an action.
There are four more buttons and a high-performance grip on the back. The buttons can be assigned to a variety of functions, and up to three distinct profiles can be saved for different games. The two of which are interchangeable on the fly.
Not only that, but SCUF also lets you change how it appears. Including a wide variety of color schemes and other features.
Razer Wolverine V2 Chroma
Price: $149.99
Buy It Here: Amazon, Best Buy, or Razer
As you can see, all three of the aforementioned controller choices are cordless. With the Razer Wolverine V2 Chroma, we are now entering the realm of wired devices. There are a couple obvious advantages due to the fact that it is wired. For one, you may experience less input-latency. Two, it never needs to be charged, so that's never an issue.
The Wolverine V2 Chroma has a wide range of customization options, including six multi-function buttons. For lightning-fast response in a pinch, it also features a Hair Trigger mode with trigger stop switches.
It also has Chroma lighting along the sides, of course. It's compatible with PCs and Xboxes. If you don't want a controller that requires batteries or charging, this is one of the best Xbox Series X|S options for you to consider.
Nacon RIG Pro Compact
Starting at $39.99
Purchase Options: Amazon and Other Stores
Reviewing the RIG Pro Compact earlier this year, we found it to be a fantastic little controller that performed admirably and felt great in the hand. Not much is meant by what little we say. It's ideal for those who prefer the feel of smaller controllers but have average or smaller hands.
The word "compact" is already part of the title; it's not an afterthought. Although it is not the smallest option available, it is the smallest compared to the others on this list. The controls can be remapped for additional personalization.
Dolby Atmos for Headphones is integrated into the controller as well. Simply connecting a headset to the gamepad will improve the audio experience. It's available in two colors (white and black) and has a long cable that allows you to use it from across the room. The Xbox needs to be closer than, say, 15 feet.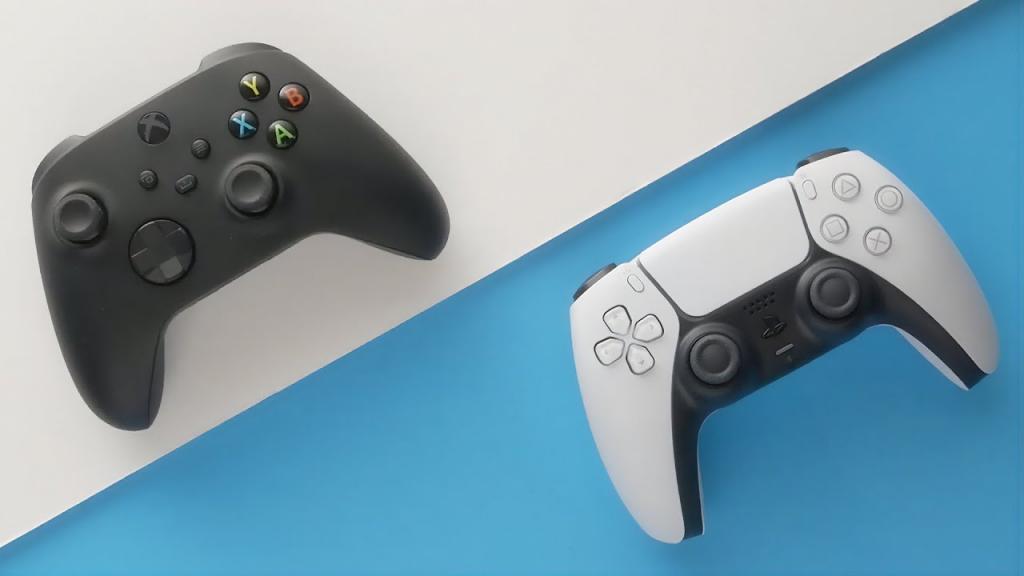 Colorware Xbox Wireless Controller
Starting at $99.99
A Place to Purchase Brightware
You can get a custom controller that fits your style from Colorware if that's all you're after. The Xbox Series X|S controller is one of many pieces of hardware that the company has designed from the ground up.
One of its distinguishing features is a wide range of customizable color options, setting it apart from other controllers on the market. Moreover, you can use those hues to customize the look of the controller in a number of ways.
However, fair warning. It could take a while to figure it out.
Xbox Design Lab Wireless Controller
Price: $69.99
Purchase Location: Xbox Design Lab
If you're familiar with the Colorware controller, you know what you're getting here. However, Microsoft themselves created this one. Not as many options in terms of color and finish, but noticeably cheaper, and you can personalize it with your gamertag or a cool note or phrase.
This is merely the standard Xbox Wireless controller, so know that the share button is the only addition. therefore, there are no additional features or controls. It's worth noting that the Xbox Design Lab appears to be down at the moment, but that Microsoft promises it "will return soon."
PowerA Fusion Pro 2
Price: 62.99
Amazon and other retailers carry them.
The PowerA Fusion Pro 2 is like a combination of the Elite Series 2 and the SCUF Instinct Pro, minus wireless connectivity. It works with Xbox Series X|S consoles and adds four paddle buttons that can be programmed to perform different actions in games.
A three-way trigger lock, interchangeable thumbsticks and faceplates, and textured hand grips on the back round out the features.
Evil Shift Xbox Controller
Starting at: $99.95
Sellers of Malevolent Command and Control Devices
Last but not least is the Evil Shift for Xbox Series X|S. You are developing the functionality of a unique controller from scratch. At its core, the Xbox Wireless Controller is fairly standard, but it can be fine-tuned through the addition of a variety of user-defined settings.
You could, for instance, begin by selecting a faceplate style. Then, you'll try out various thumb stick heights, hairpin triggers, and rear shift buttons.
Every selection comes with an additional price. Therefore, this controller's price may increase rapidly. The cost could be justified, however, if you want a truly one-of-a-kind controller.
Conclusion
Each controller appears to have the bases covered. While the DualSense has a few useful extras, we think the Xbox Series X controller is more attractive and will be more comfortable to use over the long haul.
Not a huge improvement, but the DualSense will have better haptic feedback, a gyroscope, and an in-built microphone. Just like with the DualShock 4, we anticipate that only first-party developers will make significant use of the speaker, touchpad, and light bar, as they are relatively minor features that feel mostly like gimmicks.
Both are likely to be excellent controllers, and we eagerly anticipate the release of the next generation of gaming consoles so that we can give them a try.
Leave us some feedback in the meantime. Was Microsoft wrong to leave out a gyro sensor? Is it time for Sony to rethink their design, or at least provide some alternatives? Do you have anything to say?